17.04.2016 (Hvino News). In March 2016 the UK-based Institute of Masters of Wine sent its delegation to Georgia. The first "Masters of Wine Trip to Georgia", organized in cooperation with Georgian Wine Association, was a highly professional event, which envisaged retrospective tastings of indigenous grape varieties as well as microvinifications of high-quality rare Georgian varieties.
Hvino News
has interviewed the participants of "Masters of Wine Trip to Georgia". Read the first two interviews
here
and
here
.
Today we publish the third interview from this series, wishing to thank the Institute of Masters of Wine for invaluable support. Our guest is
Christopher DONALDSON, Master of Wine
, Sales Director at The Royal Tokaji Wine Company. He kindly agreed to share impressions about trip to Georgia.
Hvino News:
Please tell us about yourself. Are you from a winemaker's family? What made you enter into the world of wine?
Christopher
Donaldson:
I was born and raised in London, my parents were interested in wine as consumers and were members of The (UK) Wine Society. So I was brought up to drink wine with meals, mainly from the classic European regions. From a professional point of view, my uncle was a hotelier and restaurateur which enabled me to enter the hotel industry. In my studies I encountered wine, and was inspired and hooked.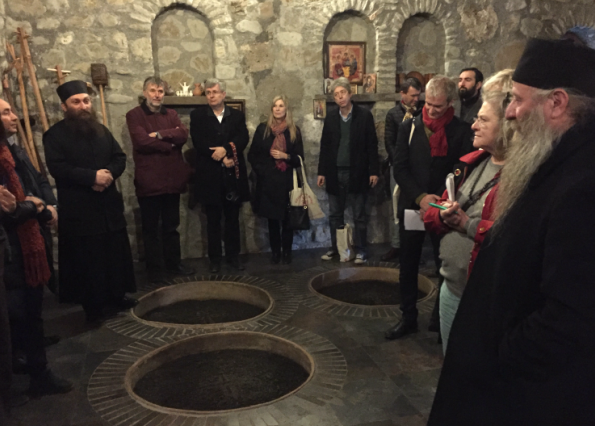 How the idea of this MT trip to Georgia came into being? Why you became interested in it? Have you been to Georgia before?
This was my first visit to Georgia, I was very curious to see how the country, the wines and the wine industry had developed over the recent years of change.
From professional standpoint, was your visit to Georgia a valuable experience? If yes, can you highlight the most interesting moments?
Very valuable – the history of the country and its wine tradition as shown at the National Museum and the explanation and tasting of
qvevri
were two highlights.
How can you characterize the current place of Georgia among the world's wine producers?
Did you change your perception of Georgian wine?
I approached with an open mind and few preconceived perceptions, so no great change except perhaps I was surprised by the comparative low production and limited availability for export. This emphasised that Georgia must persist in the higher quality/lower volume export route.
What are the biggest obstacles, which lie in the way of a wider international expansion of Georgian wines?
The plethora of indigenous grape varieties is a strength and a weakness – a strength because they are new, exciting and challenging to potential consumers and a weakness because there does not appear to be a consensus and focus on which are best for export.
You must have a wide experience with other countries and national wine industries. Can you think of important lessons, which may be useful for Georgia? Are there any mistakes, which you are observing, or which you may warn against in the future?
From a UK and other mature European market perspective, a few producers I spoke to gave me the impression that they were only/mainly interested in dealing with major off-trade customers. They were often disappointed that these customers wanted to dictate or influence the style of the wine, perhaps not to the producers' ideal of their (Georgian) wine. Get real! Unless a producer has an extremely strong brand and image, any large UK buyer is likely to do this. Georgia is competing with countries and regions the world over, and the larger producers have to co-operate with customers. I also detected a lack of enthusiasm for finding a good distributor for the on-trade. I believe this is a mistake – it's a lot of hard work to slowly build up sales in restaurants and hotels but it gives very high profile and in conjunction with a sensible off-trade strategy is extremely important. It does need a lot hard work in the market though.
Let's talk about the wines per se. If you have personal likes or dislikes about any specific Georgian wines, we will be interested to know.
"White"
qvevri
wines stood out for me, especially those which were not over-astringent and had that unique peach/apricot/ dried fruit aroma. Served cool and with the right food, these were exceptional and deserve a place at the best tables. Limited production and appeal perhaps, but a great focus. Otherwise, the problem I had was that there several other varieties and styles that I liked and enjoyed, but none that completely stood out and demanded international attention.
We sincerely hope that you had a chance to get familiar with some cultural treasures of Georgia. "Technical tastings and visits will be complemented with relevant elements of Georgian history and culture" – reads the short announcement about your trip. How was the aspect implemented?
Very well – I particularly enjoyed the museum, see above. And just talking to Georgian people was an education in Georgian culture.
If you wish to send a personal message to the professional readership of Hvino News, the floor is yours!
Congratulations on your wonderful progress, now travel and explore the markets in which you are interested, focus on a limited but high quality portfolio and target your potential customers individually and personally.
Thank you very much, Mr. Donaldson, for taking time to answer our questions.
To add this Search Box to your website, click here. Many designs are available.