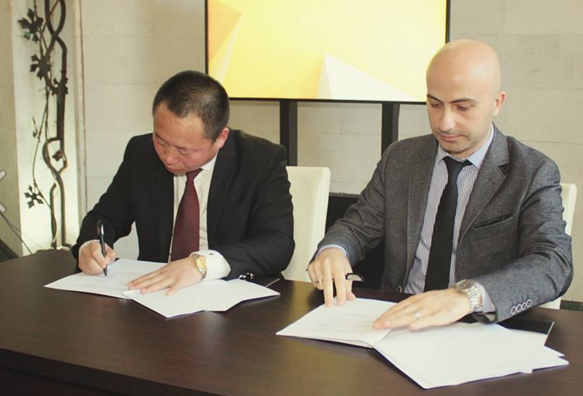 19.04.2016. More Chinese consumers will soon be able to taste and enjoy Georgian wine and learn about the country's rich winemaking culture following a deal by Georgian and Chinese envoys to increase the presence of Georgian wine in China.
A Memorandum of Cooperation was signed between the Georgian National Wine Agency (NWA) and Georgian Wine Centre in Nanchang, the capital of Jiangxi Province in south-eastern China.
The Memorandum outlined strengthening bilateral cooperation to raise awareness of Georgian wine and improve its export opportunities in China. To achieve this, a new Georgian wine centre will soon open in Nanchang city.
The NWA said construction of the new wine was already completed and the facility was ready to be officially opened. The centre is located on 1,600 m2 territory and includes wine tasting rooms, a space for Georgian wine companies' representations, exhibition halls, a museum and a restaurant.
Export of Georgian wine has been steadily increasing in the Chinese market. China, as well as Eastern European markets, the US and South Asian countries, is one of the target markets of Georgia," said the Deputy Agriculture Minister Levan Davitashvili.
He added in the new wine centre in Nanchang, a museum will also open to host exhibitions showing the rich culture and history of Georgian wine.
NWA chairman Giorgi Samanishvili said it was very important for Georgia to presents its wine in the Chinese province, in which about 40 million people live.
This is the largest wine house where Jiangxi inhabitants can come and taste and buy Georgian wine," said Samanishvili.
Head of the new Nanchang wine centre Jimin Liu said demand for Georgian wine had recently increased in China.
I think Georgian wine is the best in the world. I am sure more and more Chinese people will learn about Georgian wine and its culture, and especially about Georgian red wine," said Liu.
In the past year the Government of Georgia has worked hard to diversity its wine export markets. This effort had a positive effect in China, where the amount of Georgian wine imported was growing.
NWA data showed Georgian wine exports to China had increased 122 percent in 2015 compared to 2014.
Last year Georgia exported 2,672,154 bottles of wine to China, making China the fourth largest importer of Georgian wine in 2015.
Meanwhile this year Georgia has exported 372,000 bottles of wine to China. This was two percent increase year-on-year, said NWA.
Source
To add this Search Box to your website, click here. Many designs are available