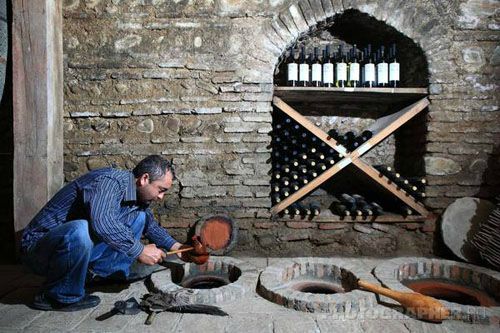 by Eric Bernardin
28.09.2012. The answer is maybe. Or surely. Cause I'm really struggling to understand how it is possible to make the wine which I drank tonight using "archaic" methods (in a sealed amphora buried for several months) and with Saperavi no less, a variety which would only be good to make table wine in France.
Ok, it did take some time for it to reveal itself. I'm not talking about the three years it spent in the bottle, though that is of importance. I'm talking about the three days of progressive aeration and opening that I made it go through. Initially, I was not really convinced. The nose was quite surly, and the mouth-feel was not much better ("Wait", I told myself). It was better the next day, though still not terribly expressive ("Wait", I told myself again).
And then, wham, here goes the unexpected. I couldn't believe the smell: a fresh and lively nose of blackcurrant and cigar, with a touch of hearth fireplace, bringing me right to the left bank of Bordeaux, between Pessac Léognan and Médoc. An ample mouth-feel, with a dense and ripe material that is without weakness, and with incredible freshness that invigorates and stretches the wine to an expressive finish that is tasty and long with notes of blackcurrant and slightly smoky ash. I feel as though I'm drinking great Bordeaux, in this wonderful "early matured" vintage that I like so. There is incredible class, a straightness that only a Cabernet Sauvignon can bring (and Sangiovese in some great Tuscan wines). I must admit that I refilled my glass several times, pinching myself between sips to make sure it wasn't a dream. And each time, there was a miracle renewed, perhaps even more intense. It was magic. I managed to keep a bit of wine for the next day to see if it could improve further.
So the next day, I pour myself the last 7cl from the bottle. The nose is still very Pauillac-like, more complex, and without a trace of oxidation. On the other hand, the mouth-feel has lost a bit of its unity, feeling messier. But it is still quite wonderful, with a very "Italian" freshness about it (yes, even if Italy lies south of France, wines are often fresher than French wines, sometimes with an acidity that seems to put off many of our fellow countrymen). In the last sip, I notice that the wine is "brut de cuve", that is, there is both food and drink to be had in a mouthful.
The only thing that's left to do is to pair this wine with food. Without a doubt, it calls for a beautiful prime rib cooked on vine shoots. This is how I paired great Bordeaux wines such as the 1986 Léoville Las Cases. It should also work wonders with this Georgian wine.
Source
(translated from French)