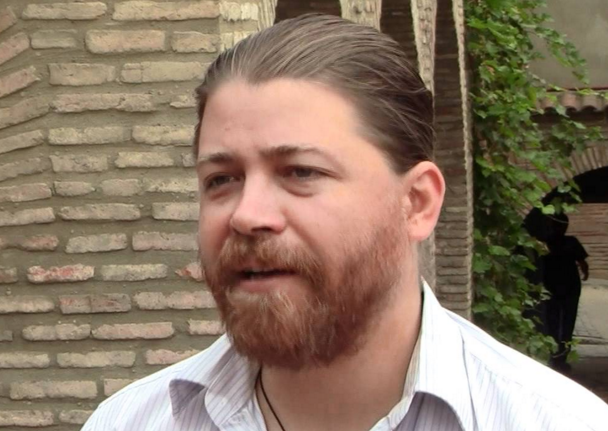 by Nino Gugunishvili
02.05.2017. Best known as the owner of wine producer Pheasant's Tears and a talented and energetic businessman well versed in the Georgian 'tamada' traditions, John H. Wurdeman first discovered Georgian polyphonic singing when he decided to relocate to Georgia back in 1995.
Before starting his winemaking operation and opening a restaurant in Sighnaghi, he and his Georgian wife Ketevan traveled around the country collecting traditional music and creating paintings. In addition to being a successful winemaker and restaurateur, Wurdeman is also an artist with a graduate degree from the Surikov Institute in Moscow.
We met with Wurdeman in his latest restaurant, the cozy Poliphonia, at 23 Amagleba Street in Tbilisi, to talk about wine, Georgian food and two exciting upcoming events. Poliphonia will host a unique tasting on May 5, where guests will have the chance to compare eight different regions of Georgia through wine, cuisine and polyphony. On May 12, the restaurant will host Zero Compromise, a tasting of natural wines presented by the wine growers themselves, from 11am to 5 pm.
"We opened Poliphonia on my birthday on December 4," Wurdeman told us. "It took us months to get ready, but it was an idea we'd had for quite a while. I was always interested in the notion of authentic polyphony. There's always a more polished version you get from academic choirs, and the kind of polyphony that was heard in Soviet times was a lot more theatrical, closer to European music rather than the real root of the culture. While I was travelling from village to village collecting songs to record and document, I discovered that the food in the villages wherever I went—in Guria, Svaneti, Imereti, Kakheti and Tusheti—was amazingly vibrant when made in the family home: their own cheese, their own bread, their own wine. And then to come back to Tbilisi and see that most of the restaurants had more or less the same 20 dishes on the menu and the wine had nothing to do with the wine Georgians really love to drink," he says.
He decided to open a winery in 2007 and a restaurant in Sighnaghi the following year, in order to have a place to showcase his discoveries.
"In wine, you have minerality, acidity; you have food qualities and the tension between them; the vibration between them is what makes the wine exciting. When you're building a dish, you also need the same kind of tension," he explains, comparing the creation of wine and cuisine with the tonal art of polyphony.
"My friends and I always had the problem that you could find our wines in Paris or Tokyo, but not in Tbilisi, because we only had small amounts and most of the commercial restaurants were not interested in such a limited supply. So, we decided to tell a story and make a presentation but it was a challenge for us to show wine writers and wine importers our work as we'd go to Tbilisi and there was nowhere to taste our wine. That's why we started gVino Underground five years ago. It's owned by six wine makers and is more of a bar than a restaurant, offering small tasters to accompany the wine. The downside was that when people got hungry, they would go to other restaurants nearby, some of which had good food but no sensitive wine list. That gave birth to Azarpesha."
Poliphonia and Azarpasha are restaurants owned by Wurdeman and his business partners Nino Mamulashvili and Luarsab Togonidze. John leads the kitchen in Poliphonia, and his wife leads the kitchen in Azarpesha.
The philosophy and criteria in each of their restaurants is, according to John, that they prefer "wild" food—local and organic, natural and seasonal. In Azarpesha, there's a bit of fusion, with cuisine from the empires that invaded Georgia: Arabic, Persian, Greek, Roman and Turkish. They also offer food cooked from ancient Georgian recipes, alongside lesser-known recipes from Georgian villages. Some of the dishes are very traditional but unusual and some are totally new. In all three restaurants, the idea is not to promote Georgian wine, but to promote natural wine. Azarpesha and gVino Underground have hundreds of such wines on their list. "The idea of Poliphonia is to have a very short menu and wine list that can change very dynamically and quickly," John tells us. "While each restaurant has its own direction, the main philosophy is the same. And Poliphonia features live music on Saturdays—we have lots of regulars who appreciate polyphonic singing".
We move on to discuss the upcoming festivities, which are open to the public.
"The event on May 5 is a kind of explanation what I wanted to do with polyphony. We've discussed how climate and landscape influences wine but sometimes we have to remember that there's also a history. There's a reason why Adjarians are different from Kakhetians, or Svanetians are different from Imeretians, and very few cultures have a national cuisine with so much diversity in food and wine. There's an interesting element in wine and food pairings. People do it all over the world, but here we're taking eight different regions of Georgia: a dish from that region, a wine, and a polyphonic song, to compare, for example, the way Imeretians cook, the style of wine they make, and the way they sing in polyphonic music. The whole idea of the event is to understand that even in Georgia, as a small country, the way that Georgians feel and express themselves from region to region is very different."
The second event, Zero Compromise [read more
here
], is a natural wine fair presenting winemakers who tend their vineyards without chemicals, and without adding anything to the wine during the winemaking process. "It's about taking a risk to get something real, a real transparent journey in a glass back to the vineyard," John says.
"When we did this two years ago, there were so few natural growers that we were able to fit into gVino Underground. There are around 65-70 natural growers now; things are changing, with more young people and females making wine. So, we'll be dividing them between the three different restaurants in Sololaki, all within walking distance from each another. For 25 GEL, people will get an all-inclusive ticket to the three restaurants, a glass with a logo of Zero Compromise, a glass holder and a map that shows how to get to the three locales, as well as a list of the growers. We didn't want to separate growers by region, so in each place there will be a little Imeretian, Gurian, Kartlian, Kakhetian and Meskhetian. And all three restaurants will be serving small bites of food so that people can also get a feel for the different kitchens of the restaurants, and to help them get through the tasting alongside over 30 wine importers and wine writers from around the world. We'll only sell 400 tickets [from the restaurants on the day], making it 'first come first serve'. The beautiful thing is that it gives people both visiting Georgia and living in Tbilisi an opportunity to speak one-on-one with the ones who make the wine," John says, adding that he hopes to hold the event annually.
Natural wine is the fastest growing niche in the international world wine market today. Bloomberg estimates that by 2020, five percent of the world's wine market will be related to natural wine.
"Quality is the most important thing. At the end, it has to be a great wine. There's a big demand right now, with natural wine makers often selling out. I hope the tendency will grow. The only thing we can do to compete is in quality. And that five percent may sound like a small amount, but for Georgia it's huge," John concludes.
To add this Search Box to your website, click here. Many designs are available.