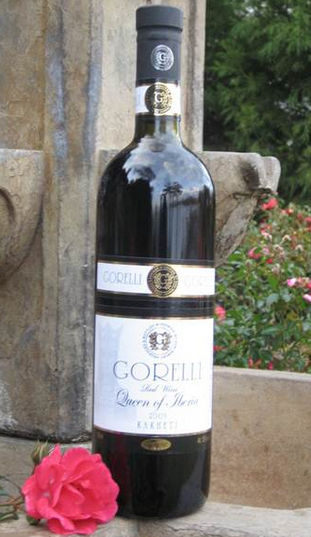 28.01.2015 (Hvino News) On January 15th Beverage Testing Institute (BTI) in Chicago awarded bronze medal to
"Queen of Iberia" Saperavi Reserve 2005
wine from Gorelli Ltd, with 82 points rating score ("Recommended".)
The official tester's note reads: "Garnet black color. Rich, fruity, toasty aromas and flavors of black raspberry pie and pencil shavings with a supple, tart, dry-yet-fruity medium body and an interesting finish conveying notes of tomato relish, mulberry, cranberry skin, and bark with hard tannins. A very structured, tannic red for the table."
This Georgian wine by Gorelli won the prize at the 2015 World Wine Championship at the BTI, one of the oldest and most prestigious wine, beer and spirits rating agency in the world, making Gorelli Ltd the most decorated in overall Georgian wine producer in the USA. This was the only wine from Georgia which won the award this time at the BTI. Up to today Gorelli wines and B.S. brandy have won 12 Medals in the USA alone at Chicago (BTI), New York and Los Angeles World Championships.
The Beverage Testing Institute (BTI) is a marketing service company that provides reviews for spirits, wines, and beers. The judging ratings range from 96 to 100. BTI uses a tasting lab in Chicago.
© Hvino News, company news
To add this Search Box to your website, click here. Many designs are available.