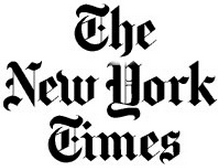 25.01.2015. (Hvino News).
The New York Times
Food Section has included Georgian Rkatsiteli wine in the recently-published list of 20 best wines for under $20, authored by Tony Cenicola. The list, entitled "Worth the Search", starts with:
The great intersection of quality and value in wine occurs in the $15- to $25-a-bottle range. Here, you can find wines that are not merely sound or decent but fascinating, without breaking the bank.
For the first time
NYT's
"20 Wines for Under $20" includes Georgian wine
Pheasant's Tears Kakheti Rkatsiteli 2011
(price $19). The description reads:
This unusual wine, made from the ancient rkatsiteli grape, comes from the republic of Georgia, a cradle of winemaking history. It is fermented and aged in a qvevri, a traditional clay vessel lined with beeswax and buried in the earth. The result is a deep amber wine with a raspy texture, steely and full-bodied, with aromas and flavors of apples, herbs and nuts.
This is the second mention of Georgian wines in
NYT
during January. Earlier this month
The New York Times
in its Travel section has published "52 Places to Go in 2015", including Georgia at 25th place, and specially mentioning several wineries and other wine-related destinations.
Hvino News
reported this important news
here
.
We have observed an unprecedented growth of Georgian wines' popularity in the leading U.S. mass medias since beginning of 2015.
Earlier this month
Hvino News
reported that
Forbes Magazine
included the Georgian wines in its top wines list, see
"Forbes" includes Georgian wines in its "9 Best Wines and Spirits to Start Drinking in 2015"
. In addition to coverage by
NYT
and
Forbes
,
Voice of America
published a video clip entitled "Georgian Wines Make Forbes List of 'Best to Drink in 2015', see
here
. This highly successful media campaign helps to raise much-deserved awareness of Georgian wines in USA and internationally.
© Hvino News
To add this Search Box to your website, click here. Many designs are available.