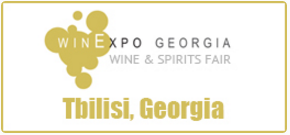 20.05.2016.
Georgia's capital Tbilisi is preparing to host dozens of wine companies from several countries at the 9th annual WineExpo Georgia.
Over three days Georgia's capital will host the only international wine and spirits fair in the Caucasus region, showcasing a full range of industry-related products and services.
Producers and exporters of 70 wine companies from five countries – Georgia, Ukraine, Germany, Italy and France – will participate in the WineExpo Georgia 2016 to establish new networks and create new business opportunities.
WineExpo Georgia 2016 will take place at the Expo Georgia fairground from June 3-5.
WineExpo Georgia is really a hybrid project between an exhibition, competition and a business forum with the focus on increasing profit through wine sales in a warm and welcoming environment," say fair's organisers.
During the three day event Georgian wine and traditionally made cheese will be presented. Guests will also be able to see wine accessories such as wine-making equipment, viticulture machineries, glass and glassware, packaging and more.
Alongside the country's big wine producers, the exhibition will host small and family wine producers, as well as unique Georgian qvevri wines.
Within this year's WineExpo Georgia, the 8th International Wine Award will be presented, judged by world renowned wine journalists and specialists such as Tim Atkin MW from Britain, Kenichi Ohashi MW from Japan, Richard Kershaw MW from South Africa, Isa Bal from Turkey and Levan Mekhuzla from Georgia.
Source
To add this Search Box to your website, click here. Many designs are available