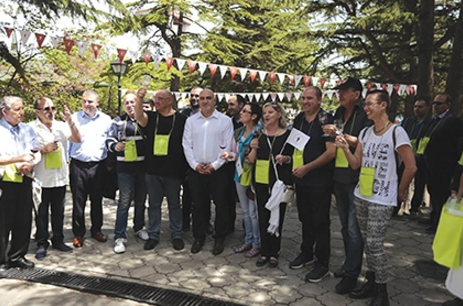 by Tamar Svanidze
17.05.2016. A dizzying array of Georgian wines saw daylight as part of Tbilisi's annual
New Wine Festival
in the city's Mtatsminda Park on Saturday. The park, located 800 meters above the city, hosted dozens of wine producers from around the country accompanied by Georgian folk and jazz musicians, including the Rezo Kiknadze Jazz Band and Tango Vagabundo group, Nali Band and Didgori Folk Ensemble.
Aside from amazing views of the city, visitors had a chance to taste a diversity of Georgian wines from the featured 102 family wineries and 78 wine companies presenting varietals from their 2015 harvest.
The festival kicked off with the traditional opening of a clay wine vessel buried in the ground, known in Georgian as a
qvevri
. Guests also had an opportunity to win barrels full of the best Saperavi wine by taking part in a lottery. Throughout the afternoon visitors were also able to enjoy barbequed meat (
mtsvadi
) with their wine.
The annual Tbilisi New Wine Festival is an ideal event to boost tourism in Georgia's capital city. The warm spring weather, local hospitality and unique chance to taste the national wine this year once again succeeded in attracting numerous tourists and gastronomy and travel writers from around the world to the wine festival.
This year the Georgian Ministry of Economy and Sustainable Development and the National Tourism Administration hosted a group of Israeli journalists and bloggers who will promote the event through various local media outlets.
The New Wine Festival is organized by the Georgian Wine Club to promote small producers, wine producing companies and entrepreneurs involved in the viticulture industry.
Source
To add this Search Box to your website, click here. Many designs are available