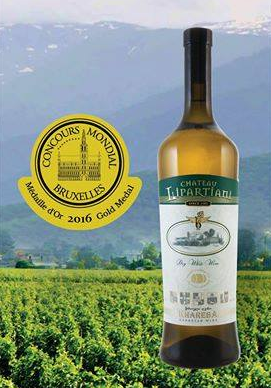 31.05.2016 (Hvino News). Concours Mondial de Bruxelles is one of the most prestigious wine competitions of the world. Concours Mondial de Bruxelles is an international wine competition which has taken place annually since its inception in 1994. The competition's name is often shortened to Concours Mondial, particularly since it is now held in various European countries other than Belgium.
The company Winery Khareba have been successfully participating in the competition for several years.
This year on Mondial de Bruxelles only one Georgian wine company Winery Khareba got the gold medal.
Chateau Lipartiani 2012
(dry white wine) by Winery Khareba is the winner wine at Concours Mondial Bruxelles 2016.
The very first Concours Mondial was in fact held in the historic city of Bruges, not in Brussels as might be expected given the competition's title. It was organized by Louis Havaux, founder of the Belgian publication
Revue Belge des Vins
, and attracted more than 850 entries from 29 countries. A self-styled 'World Wine Championship', the Concours Mondial now assesses almost 7000 wines from around the globe each year, and since 1999 has been complemented by the Brussels Spirits Awards.
Company press release
To add this Search Box to your website, click here. Many designs are available.