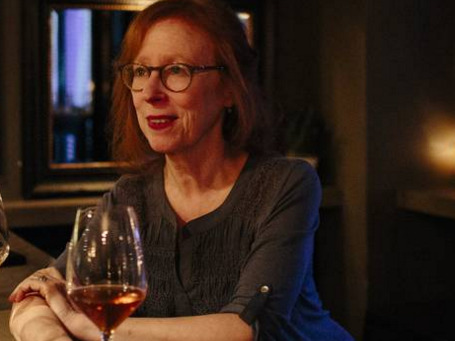 Photo: Adrienne Grunwald for WSJ
by Lettie Teague
02.03.2016. Natural-wine advocate Alice Feiring has never been one to shy away from a cause or to disguise her emotions. And the native New Yorker found a place for both in Georgia, a republic that was once part of Russia and that has endured many invasions over the years.
Ms. Feiring's latest work, "For the Love of Wine: My Odyssey Through the World's Most Ancient Wine Culture" is part handbook on Georgian wine, part winemaking polemic and part guide to Ms. Feiring's heart.
I met Ms. Feiring at Anfora bar for a chat about her book on Monday, the day before it was due to be published by Potomac Books, a division of University of Nebraska Press. Anfora is one of a handful of Georgian wine strongholds in New York, with a surprisingly large selection. Anfora's wine buyer David Foss told us a "large group of wine nerds" come to the bar just to drink Georgian wines.
Mr. Foss and Ms. Feiring fell to bantering about the Georgian wines. Was that one a skin contact white (aka "orange" wine)? Was that pinkish 13-year one a rosé or a deliberately oxidized white? They readily exchanged unfamiliar grape names like Sapaveri, Chinuri and Ojaleshi, a red one that Ms. Feiring described as Georgia's "next happening grape."
One that Ms. Feiring described in her book that I wanted to taste was horse breast. Was there a horse breast wine on the Anfora list? There wasn't. In fact, Ms. Feiring knew of only one commercially produced horse breast wine in all of Georgia.
Ms. Feiring has traveled to Georgia seven times in the past five years—her initial visit was in 2011 to speak at the first International Qvevri Symposium at the Alaverdi Monastery. The
qvevri
, a large earthenware vessel that is filled with wine and then put into the ground, was an important part of Georgian winemaking culture before a Soviet emphasis on mass-market, commercial wine made chiefly in tanks. There has since been a renaissance of the qvevri, which is now on the UNESCO cultural heritage list, according to Ms. Feiring's book.
In Georgia, Ms. Feiring often is accompanied by John Wurdeman, a friend and the garrulous owner of the Georgian winery Pheasant's Tears. Mr. Wurdeman introduced Ms. Feiring to many memorable wines and winemakers.
On her travels, Ms. Feiring spends a great deal of time enjoying good food and drink. Georgians, it seems, can't welcome a guest without hours of feasts and toasts. "It's a very poor country but they eat very well," Ms. Feiring noted.
Recipes for many of the dishes that Ms. Feiring has tasted can be found in the book, including one for Khachapuri, a cheese-filled bread that everyone eats "all the time." although a few ingredients, such as blue fenugreek, may be hard to find in New York. "You can substitute saffron," Ms. Feiring advised over a glass of 2013 Pheasant's Tears Chinuri. (Anfora offers several of Mr. Wurdeman's wines.)
Ms. Feiring was particularly struck by what she called the "ego-free" way of Georgian winemaking, which she speculated had to do with the fact that Georgia is a deeply religious country. Or perhaps it is the fact that most of the winemakers she met weren't looking to get rich but merely hoping to support themselves.
Although Ms. Feiring's passion for Georgian wines and winemakers is clearly quite strong, an even deeper bond is revealed late in the book.
As Ms. Feiring was discovering the joy of Georgian wines, her brother, Andrew, was dying of cancer. Ms. Feiring said she had considered taking Andrew's story out her book but ultimately decided to keep it, finding a "parallel" story of her brother's struggle and that of her beloved Georgian winemakers.
Andrew Feiring died before the book was completed, but he would undoubtedly have been proud of his sister's discovery and celebration of the Georgian wine culture and way of life.
Source
To add this Search Box to your website, click here. Many designs are available.