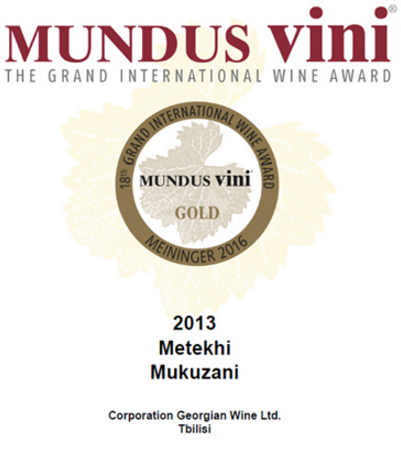 02.03.2016. MUNDUS VINI is one of the most popular and large scale International Wine Exhibition in Germany, aiming to develop wine quality and sales in the world.
Exhibition hosted more than 5000 wines from the most important winemaking regions.
Judges of the present competition included 160 high rank experts from 36 popular winemaking countries all over the world (enologists, sommeliers, wine writers, critics).
This year, at MUNDUS VINI's 18th exhibition was held and Mukuzani 2013 Series "Metekhi" of Corporation Georgian Wine awarded Gold Medal.
On 13-15 March, in Dusseldorf, MUNDUS VINI 2016's winner wines will be presented and tasted at Tasting Zone ProWein 2016.
Company information
To add this Search Box to your website, click here. Many designs are available.