15.09.2017 (Hvino News). Bordeaux is hosting an exhibition called "Georgia, Cradle of Viticulture" at the world wine civilization centre Cité des Civilisations Du Vin today. Today Georgia's Prime Minister Giorgi Kvirikashvili and Mayor of Bordeaux Alain Juppe visited Georgian wine exhibition in Bordeaux.
Prime Minister Kvirikashvili said: "Wine is the major marker of Georgia's national identity, just as 'exquisite taste in everything' is a big part of France's national identity. I am very proud to be here and take part in this remarkable event. Today, in this Citadel of Winemaking, Bordeaux, we are celebrating the Cradle of Winemaking, Georgia. Eight thousand years is enough time to turn a leisurely activity into a critical element of national identity. And that's exactly what happened with Georgia".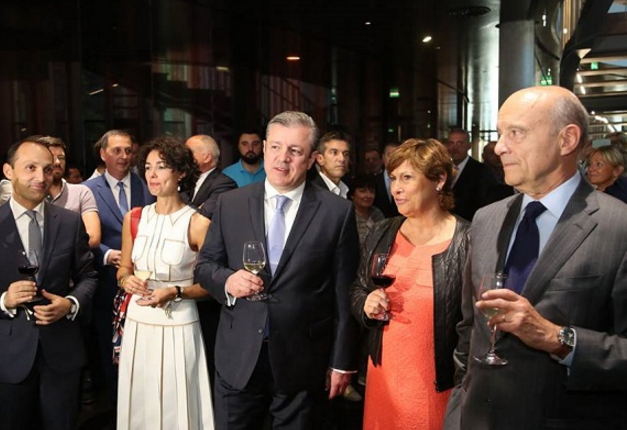 Mr. Kvirikashvili further shared how the earliest traces of wine have been identified on a ceramic vessel unearthed in Georgia and dated by leading laboratory experts to a period 8,000 years ago. He also said that pips of
vitis viniferas
, the oldest known vine varietal, have been discovered in Georgia, and they also date to the same period.
"Our tiny nation, on a tiny territory, managed to domesticate and cultivate more than 500 varieties of vine. In no other field have we been as inventive and successful. We are proud of our ancestors, who invented this winemaking know-how called qvevri millennia ago. Nearly every Georgian family used to have this clay vessel at home, including me", Prime Minister said.
Georgia is the first country – the "Invited Vineyard" – to be represented at the recently opened Cité des Civilisations Du Vin until November 5.
© Hvino News
To add this Search Box to your website, click here. Many designs are available.