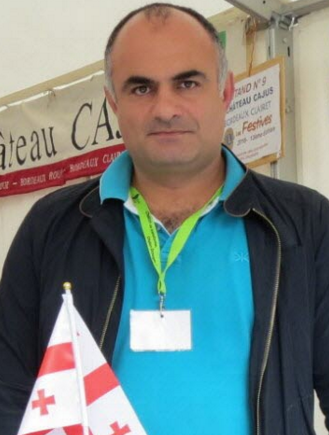 16.09.2017 (Hvino News). Recently Giorgi Chkheidze, Deputy Minister of Agriculture of Georgia, participated in the first "Georgian vintage" in Antibes, France.
Georgian winemaker and former rugby player Ilia Kakhoidze with French partner Gérard Germain planted a vineyard of Georgian varieties Mujuretuli and Kakhuri Mtsvane on a half hectare land at Juan les Pins, near Antibes, in the French Riviera (read more here:
Corsican fan of Georgian wine
)
According to the deputy minister, popularization of Georgian wine is crucial to maximizing its export potential. In this regard, France is strategically important.
"We have come from Georgia with q
vevris
,
satsnakheli
and all the traditional attributes that Georgian wine-makers and viticulturists use. We have also built a
marani
here. Everyone can come here because it is also a showroom",- said Ilia Kakhoidze.
"With the support of the Ministry of Agriculture and National Wine Agency, Georgian wine producing companies take part in virtually all the prestigious exhibitions of international importance, which is a decisive factor for establishing Georgian wines in world markets. However, it should be noted that promotion of our wines by Georgian and French wine-makers in Antibes has different meaning. The ancient culture of Georgian viticulture and winemaking is clearly provided here",- noted Giorgi Chkheidze.
According to Ilia Kakhoidze, in order to establish Georgian wine in the French market, they often hold meetings with the representatives of restaurants, sommeliers, where they speak about Georgian wine, the rules of offering it to the customers, as the white
qvevri
wine is unknown to them and they should be offered as "Georgian amber".
© Hvino News
To add this Search Box to your website, click here. Many designs are available.