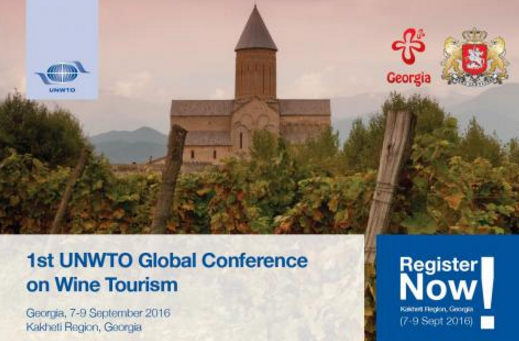 17.08.2016 (Hvino News). The World Tourism Organization (UNWTO) in collaboration with the Georgian National Tourism Administration will present the 1st UNWTO Global Conference on Wine Tourism to be held in the Kakheti wine region of Georgia from 7-9 September.

See the conference program below.

The Conference will have a unique and dynamic format in which the sessions will take place in different wineries. Expert speakers will provide snapshot presentations to lead the debates which will ensue at each of the tables. Participants will be requested to actively participate in the interactive debates with the expert speakers which will be rotating among the tables. The conclusions of the Conference will be a compilation of all the information debated during each meeting.

"Wine tourism represents a growing segment with immense opportunities to diversify demand. In the case of Georgia, this potential is well-known and we are very pleased to be holding the first UNWTO Global Conference on Wine Tourism in the country," said Taleb Rifai, Secretary-General of UNWTO.

"Georgia's unique wine-making traditions date back 8,000 years and are part of UNESCO's intangible heritage, creating the ideal base to host the Wine Tourism Conference. Herewith, the country's recent success in attracting a growing number of tourists, its development in terms of tourism products, branding and marketing present an excellent platform to share best practices, experience and knowledge", - said Dimitry Kumsishvili, Minister of Economy and Sustainable Development of Georgia.

1st UNWTO Global Conference on Wine Tourism

PROVISIONAL CONFERENCE PROGRAM

7

September

11:30-13:00

3rd UNWTO Gastronomy Network meeting (by invitation only)

Chaired by Yolanda Perdomo, Director of the Affiliate Members Programme

15:00-17:00

Technical tour of Tbilisi

20:00

Inaugural dinner (hosted by the Prime Minister of Georgia, H.E. Mr. Giorgi Kvirikashvili)

- Welcoming remarks by local authorities and UNWTO representatives

- Keynote address: "Georgia, the beginning of everything: a historic journey through wine"


8

September

9:00 – 12:00

Travel to Kakheti – Wine Region

12:00 – 13:30

Alaverdi monastery visit: traditional wine-making practices in Georgia

Located in the picturesque slopes of the Caucasus Mountains in Kakheti, the Alaverdi monastery is home to a spectacular 55 metres high Cathedral. The history of the monastery dates back to the VI century and a former preferred place of worship for Georgian kings. The monastery is home to an ancient VIII century cellar boasting an intriguing collection of about 50 original, preserved "qvevris" (traditional Georgian wine vessels). It has managed to maintain throughout the generations, the ancient Georgian "qvevri" wine-making technique, nowadays and a trademark wine-making method of the Kakheti region.

14:00-14:10

Welcoming remarks

- H.E. Mr. Dimitry Kumsishvili, First Vice Prime Minister, Minister of Economy and Sustainable Development of Georgia

- H.E. Mr. Taleb Rifai, Secretary-General of the World Tourism Organization (UNWTO)

14:10-17:00

Session 1: Best practices in Wine Tourism (Khareba Winery)

·

Giovanni Mantovani, CEO, VeronaFiere and creator of VINITALY (Italy)

·

Janet Dorozynski, Trade Commissioner, Canadian Wine, Beer and Spirits and Tourism, Trade Sectors Bureau (BBI), Global Affairs Canada (Canada)

·

Ayana Mizawa, Chief winemaker, Chuo Budoshu Co., Ltd., Grace Wine (Japan)

·

Mike Veseth, Wine Economist, Professor Emeritus of International Political Economy, University of Puget Sound (United States of America)

·

Gabriel Fidel, Wine Tourism Consultant (Argentina)

17:00 - 20:00 Visit to the Marani (wine cellar), visit to Khareba´s wine tunnel and dinner

20:30 – 23:30 Travel to Tbilisi

9

September

11:00 – 11:30

Travel to Château Mukhrani

12:00 – 16:00

Session 2: Product development in wine tourism (Château Mukhrani)

- Presentation of the UNWTO Wine Tourism Prototype

- The UNWTO Wine Tourism Prototype will be presented by UNWTO and Affiliate Member, the Leading Brands of Spain Forum along with its five participating wineries: Osborne, Gonzalez Byass, Barbadillo, Freixenet and Pagos del Rey.

- Pedro Vargas, International Projects Director, Leading Brands of Spain Forum

- Yolanda Perdomo, Director of the Affiliate Members Programme, UNWTO

The Affiliate Members Programme of the World Tourism Organization (UNWTO), together with Affiliate Member Foro de Marcas Renombradas Españolas (Leading Brands of Spain Forum, FMRE), is developing a tourism prototype that aims at providing a new innovative way to promote and showcase Spain and its lifestyle through the member wineries of FMRE. The participating wineries will become visitor centres offering travellers different and authentic insights into the rich history and most important resources of their respective regions.

This project is a fresh approach for meeting the demands of emerging consumer profiles and contributes to Spain's repositioning as a destination by providing valuable additions to the country's product offerings. The UNWTO has carried out the necessary fieldwork with the collaboration of wineries in the following regions: Cádiz (Jerez, Puerto de Santamaría and Sanlúcar de Barrameda), Galicia, Penedés, Priorat, Ribera Del Duero, Somontano, Toledo and Toro.

The UNWTO has also developed the prototype's technical design, brand image, product development, communications plan and governance model for its management. This project can be developed and applied internationally in any other destination that meets the standards set in the prototype.

- Presentation by a representative from the Secretary of State of Tourism of Spain – to be confirmed

- Presentation by Georgian representatives

- George Chogovadze, Head of Georgian National Tourism Administration

- Levan Davitashvili, Deputy Minister of Agriculture of Georgia

- Patrick Honnef, CEO, Chateau Mukhrani

- John Wurdeman, Owner, Pheasant's Tears

16:00 – 17:00

Visit of Château Mukhrani´s

marani

, a traditional wine cellar

© Hvino News

To add this Search Box to your website, click here. Many designs are available.