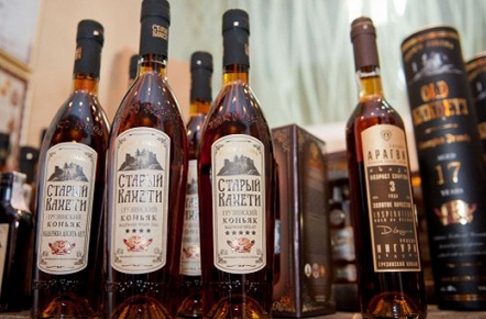 by Giorgi Kalatozishvili
02.08.2016. This year, Georgian companies exported 1.1 million liters of brandy to Russia. Thus, Georgia became number one brandy exporter in the Russian Federation. Georgian products take 48.1 percent of the imported brandy/cognac market. A year ago Georgian producers covered only 20 percent of the Russian market where France completely dominated.
Exporting of Georgian brandy to Russia was restored in 2013 after a seven-year unstated embargo introduced by the Russian government in response to a series of confrontational steps by Tbilisi, including an arrest of four Russian officers for espionage in 2006. Moscow stopped importing not only cognac and wine, but all agricultural products. Cooperation in the trading sphere was restored only after a change of power as a result of the parliamentary elections in 2012 – a victory by The Georgian Dream of billionaire Bidzina Ivanishvili.
The most popular brandies in Russia are Old Kakheti, The Heart of Aragvi [brands of KTW], and Sarajishvili. Their average price is 400-600 rubles per bottle, while French cognac got up to 3000 rubles. It is interesting that Georgian brandy producers complain to the ruble falling less than others. Sometimes they make it clear that being a part of the post-Soviet space, traditional Georgian industries are better adapted to a new ruble course than producers from non-CIS countries.
Export of Georgian wine to Russia still takes more than 50 percent of the whole exported wine products.
However, in recent times Georgian wine producers have reached significant successes at the Chinese market – an export to China has grown by 122 percent. 2 672 154 bottles of wine have been exported to China over the year. China takes the third place in the Georgian export after Russia and Ukraine. However, the gap is still huge. For example, Georgia exported 18 308 177 bottles of wine to Russia last year.
Source
To add this Search Box to your website, click here. Many designs are available