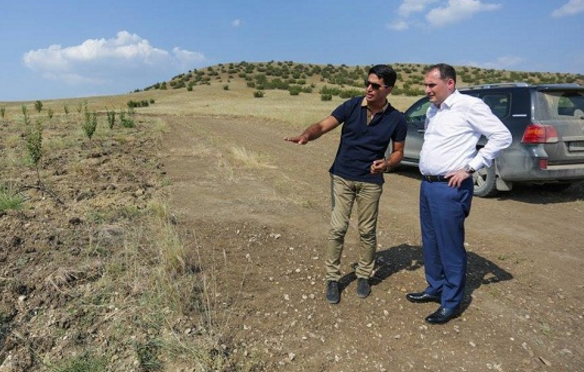 05.08.2016. An Iranian investor is building Green Village in Georgia's historic winemaking region Kakheti, creating a unique destination for tourists and tourists that will bring money into the region and benefit the country's economy.
Private Iranian investment holding ARIC LLC, which has operated in Georgia since 2012, aimed to develop its activities in three directions in Kakheti's Sagarejo Municipality. [Read more here:
"Vinichio Valley" project in Kakheti introduced to Georgian business representatives.
]
In particular ARIC LLC concentrated in agriculture, eco-tourism, the food industry and construction businesses and seeked to export harvested goods outside Georgia, including EU markets.
ARIC LLC has already invested about $85 million USD to develop the area in Kakheti.
The concept of the entire project was to develop Green Village in Sagarejo, which would include a vineyard, stone fruit gardens, nut plantation, wine factory, dry fruit line and five-star villas.
Within the project the first area of works involved planting vineyards and orchards in Sagarejo. The holding was already experiencing some progress in this area, as vineyards and orchards were already planted on 800 hectares. ARIC LLC planned to develop the business further and create a pistachio plantation on an additional 1,000 hectares of land.
Meanwhile in the second direction the investors planned to build a winery that would produce at least four million bottles of wine per year.
The third direction was developing eco-tourism in Kakheti. ARIC LLC will build a five-star villa in the Green Village, which will feature a range of extreme entertainment such as skydiving, polo, golf, and horse riding.
ARIC LLC was not the only Iranian company that wanted to operate businesses in Georgia's Kakheti region.
Another similar project funded by Iranian investors was being implemented in Kakheti.
TR Georgia Project 2 Ltd has been planting and operating a pistachio plantation since 2013 in Sagarejo Municipality and it planned to develop a nut plantation on 600 hectares of land.
Furthermore, the company planned to build pistachio and nut processing plants in Sagarejo and also start producing different agricultural products.
To show the Government's support for these activities, Georgia's Economy Minister Dimitry Kumsishvili visited both Iranian businesses in Kakheti yesterday and said he hoped the development would continue successfully (see photo).
Source
To add this Search Box to your website, click here. Many designs are available