by Mansur Mirovalev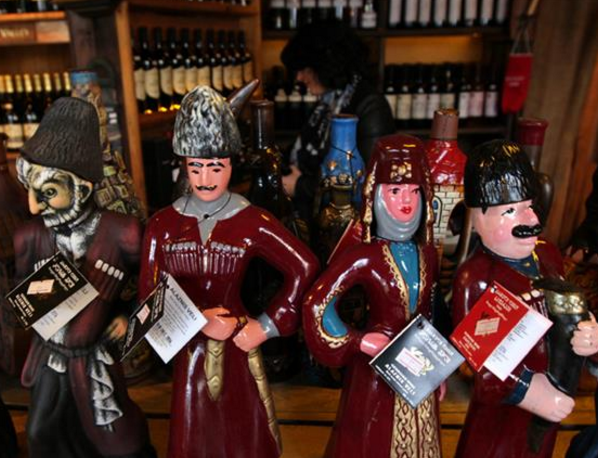 27.11.2015. Temori Saalishvili lifts a lid from a round ceramic vat in the concrete floor of his basement. With a wooden pitchfork, he stirs a bubbling, pungent, amber-coloured liquid filled with grape skins, stems and seeds.
After several more days of fermentation, the liquid will turn into young, full-bodied "orange" wine with strong tannins and fruity overtones.
The wine seems to have absorbed the flavours of the landscape around it: walnut and persimmon trees skirting stone houses, a patchwork of sun-kissed fields and lush meadows watered by the snow-covered Greater Caucasus Mountains, and garlands of dry saffron flowers hanging in Saalishvili's kitchen.
Most European wines are made by fermenting grape juice after it has been separated from the grape skins. But traditional Georgian wine, or
hvino
, is skin-fermented without yeast and chemicals, mostly in containers similar to the one below Saalishvili's basement floor. It is called
kvevri
- an earthenware vat more than two metres tall that was installed by Saalishvili's grandfather half a century ago and is now a subterranean pillar of the world's oldest viticulture.
"This is Georgia's blood," the portly, balding 55-year-old vintner and former mayor of this village in the eastern Kakheti region, told
Al Jazeera
, pouring another wine, a purple-red Saperavi that he keeps in 500-litre barrels and sells for $2 a litre.
Grapes of wrath
According to local archeologists,
hvino
has been produced here for at least 8,000 years. The South Caucasus nation's rugged terrain makes each valley's microclimate unique, which in turn creates an abundance of grape varieties - more than 500.
"The story of wine here is so old, so real, that it can make what we know of ancient Greece and Rome seem like recent history," the
Lonely Planet
guide said in September. It included Kakheti, the heartland of
hvino
production, in the top 10 of its 2015 list of the "world's most intriguing wine regions".
Wine is an integral part of life in Georgia; its use in the religious rites of one of the world's oldest Christian nations gives it an almost sacred status. Unsurprisingly, perhaps, Georgia's most outspoken son, Soviet dictator Josef Stalin, turned his homeland into a major source of wine for the USSR and Communist bloc countries.
By the mid-1980s, Soviet Georgia produced 400,000 tonnes of wine a year. But, after the collapse of the Soviet Union in 1991, Georgia endured civil and separatist wars, and wine production declined tenfold. Still, some 80 percent of what it did produce went to Russia - as its wine was almost unknown in the West.
So, when Russian President Vladimir Putin's government banned Georgian wine imports in 2006, the industry that employs hundreds of thousands in the impoverished, resource-poor country of 3.8 million seemed doomed.
Georgians believed the ban was political retribution for the pro-Western policies of then-president Mikheil Saakashvili.
Along with the ban, Moscow introduced visas that complicated the lives of Georgian labour migrants in Russia and nearly doubled the price of the natural gas the country relies on to meet most of its heating needs. It also outlawed Georgian fruits, vegetables and Borjomi, a mineral water most of the former Soviet Union is still thirsty for.
But it was the prohibition of
hvino
that became the most symbolic sign of confrontation between an increasingly belligerent Moscow and Tbilisi that eventually led to a 2008 war over South Ossetia, a breakaway Georgian province.
"For centuries, anyone who invaded us - Arabs, Iranians, Turks - destroyed wineries to extinguish the spirit of Georgia," Alexander Kurdadze, who served as deputy chairman of Soviet Georgia's wine industrial complex for 30 years, told this reporter in 2008, just weeks after Georgia's humiliating defeat in the war.
"Russia tried to do the same," he added.
Survival of the fittest
The wholesale price of grapes plummeted, and the domestic market could not digest all the bottled produce, as most Georgian farmers have backyard wineries and supply their urban relatives. Despite spreading anti-Kremlin sentiments, winemakers lamented the loss of the Russian market.
"For us, it's very important to re-enter Russia, to get a certain position, not necessarily dominant," Giorgi Margvelashvili of the Tbilvino winery told
Al Jazeera
in 2013.
But some hailed the ban as a purification of the industry, which would help to rid it of the producers of the fake wine that Georgians sarcastically dub "Minassali" - distorted Russian for "We took a p***".
Shortly after the ban took effect, President Saakashvili summoned his officials for a "testing" of counterfeit wines, ordered tougher control over producers and appointed the defense minister, Georgy Okruashvili, to oversee the industry's transformation and promotion in the West.
Okruashvili said most of the Georgian wines sold in Russia were plonk that tasted like "fecal masses" - and ordered the closure of seven wineries whose production fitted the description. Their owners soon faced criminal charges.
The measures had a Darwinian effect on the industry. Dozens of companies went bust, and many farmers chose to switch to more profitable crops such as peaches, persimmons or hazelnuts.
The industry expanded into other former Soviet republics, the West and Asia. Former Soviet republics and Communist bloc countries such as Ukraine, Latvia and Poland (the latter two European Union members) topped the list of new buyers - which also meant compliance with strict EU quality regulations.
"When you switch to the new market, you really have to get more and more active in terms of quality and marketing," Irakli Cholobergia of the Georgian National Wine Agency told
Al Jazeera
.
The results were not immediate, but they were rewarding. Western critics started reviewing the Georgian
hvinos
that were increasingly available in liquor stores or online, and several brands won awards at wine exhibitions in China and Japan.
In 2015, some 210,000 bottles of Georgian wine were sold in the US, Georgia's National Wine Agency said in early November - not bad for a niche product hardly known to Americans, some of whom would have mistaken the country for a US state several years ago.
Poland was a top Western buyer with almost 1.3 million bottles.
Russia's return
And in late 2013, a miracle happened. After Saakashvili's pro-Russian political rivals ousted him from power and eventually from Georgia, Moscow lifted the ban. After a seven-year hiatus, Russia once again became Georgia's number one wine market.
But the honeymoon did not last long. Last year's crash of the ruble caused by low oil prices and Western sanctions crippled demand in Russia, while sales in Ukraine plummeted because of a separatist war and a devastating economic meltdown.
In 2015, some 30 million bottles of Georgian wine have been sold internationally - three times more than in 2009, according to the Wine Agency. Almost half of the wine went to Russia, while China gobbled almost two million bottles, becoming Georgia's fourth-largest market after Kazakhstan and Ukraine.
The backbone of Georgia's winemaking seems resistant to economic and political hardships.
Vintner Saalishvili says he makes five tonnes of wine every year - and is never short of customers, mostly restaurant owners or urbanites who buy his wine in bulk for
supras
, traditional, hours-long feasts, or family celebrations.
"My wine gets sold, no matter what," he proclaims loudly after several glasses of orange and red wine and a shot of
chacha
, or grape moonshine made of the skins, stems and seeds taken out of his
kvevri
just days earlier.
Source
To add this Search Box to your website, click here. Many designs are available.