08.11.2015 (Hvino News). Polish specialized magazine
Wino
has awarded Georgian wine with prize at
Wino's
Grand Prix awards
(Nagrody Grand Prix Magazynu Wino 2015).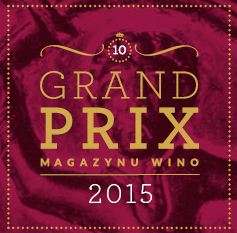 The winner of a bronze Grand Prix in category "Best red wines" is
Jakeli's Khashmi Saperavi Organic
2011.This Georgian wine is imported to Poland by Krako Slow Wines.
Wino
is a bi-monthly magazine established in 2002, currently the largest independent wine periodical in Poland.
Jakeli's family vineyard (5.5 ha)
▼
Map
was started in 2001 near the village Khashmi in the Iori valley, Kakheti, at the foothill of the Tsivgombori mountain range. The vineyard is at 760 meters above sea level. It is managed organically, never irrigated and sprayed maximum 5 times in May-July. No oak barrels are used, and no filtering. Jakeli winery became member of the Biological Farming Association ELKANA in 2004. Since 2009, their production is certified organic according to standard Green Caucasus.
© Hvino News
To add this Search Box to your website, click here. Many designs are available.