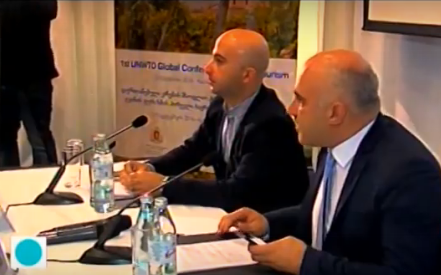 13.11.2015 (Hvino News) Yesterday in Tbilisi the the heads of the National Tourism Administration and National Wine Agency - Giorgi Chogovadze and Giorgi Samanishvili - held a joint press conference regarding the first Global Conference on Wine Tourism, planned for 2016 in Georgia.
The wine conference will be held under the auspices of United Nations's World Tourism Organization - UNWTO.
As announced last moth at UNWTO event in London, the first UNWTO Global Conference on Wine Tourism will be held in Georgia's Kakheti wine region on September 7-9, 2016 (read more
here
). The activity is part of the UNWTO Gastronomy Network plan of action.
The representatives of Georgia's wine and tourism agencies briefed the journalists at Radisson Blu Iveria Hotel on the conference project details, and answered the questions.
"We made an official statement stressing that Georgia will host the UNWTO's 1st Global Conference on Wine Tourism in September 2016. This conference, which is to be held under the auspices of the United Nations, will promote the demonstration of Georgia's tourism potential as well as the popularization of the country, as a wine homeland all over the world", - said Mr. Chogovadze.
The World Tourism Organization (UNWTO) is the United Nations agency responsible for the promotion of responsible, sustainable and universally accessible tourism. UNWTO's membership includes 157 countries, 6 Associate Members and over 480 Affiliate Members representing the private sector, educational institutions, tourism associations and local tourism authorities.
To contribute into promotion of wine tourism in Georgia, Hvino.com has launched the first interactive
map of Georgia for wine tourists
last month.
Hvino.com
has been the primary publisher of Georgia's daily wine industry news for international audience since 2012.
© Hvino News
To add this Search Box to your website, click here. Many designs are available.