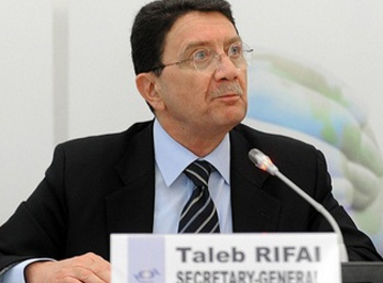 05.11.2015 (Hvino News) Wine tourism is set to really take off next year after it was announced that the first UNWTO Global Conference on Wine Tourism will be held in Georgia's Kakheti wine region from Sept. 7-9, 2016.
The 1st UNWTO Global Conference on Wine Tourism was officially launched by UNWTO and the Georgian National Tourism Administration on the occasion of the World Travel Market in London. The activity is part of the UNWTO Gastronomy Network plan of action.
The UNWTO and the Georgian National Tourism Administration made the announcement at World Travel Market session. As explained by UNWTO Secretary-General Taleb Rifai, who led the presentation with the head of Georgian National Tourism Administration, George Chogovadze, and the Georgian Ambassador to Spain, Zurab Pololikashvili, "Wine tourism represents a growing segment with immense opportunities to diversify demand. In the case of Georgia, this potential is well known as we are very pleased to be holding the first UNWTO Global Conference on Wine Tourism in the country."
Dimitry Kumisishvili, Minister of Economy and Sustainable Development of Georgia, also commented: "Georgia's unique wine-making traditions date back 8,000 years and are part of UNESCO's intangible heritage, creating the ideal base to host the Wine Tourism Conference. Herewith, the country's recent success in attracting a growing number of tourists, its development in terms of tourism products, branding and marketing present an excellent platform to share best practices, experience and knowledge."
The World Tourism Organization (UNWTO) is the United Nations agency responsible for the promotion of responsible, sustainable and universally accessible tourism. UNWTO's membership includes 157 countries, 6 Associate Members and over 480 Affiliate Members representing the private sector, educational institutions, tourism associations and local tourism authorities.
To foster the development of gastronomy and wine tourism, UNWTO launched the UNWTO Gastronomy Network this past September during the UNWTO General Assembly in Medellin, Colombia. Gastronomy and wine have become key components for experiencing the culture and lifestyle of any destination and a growing travel motivation.
© Hvino News
To add this Search Box to your website, click here. Many designs are available.