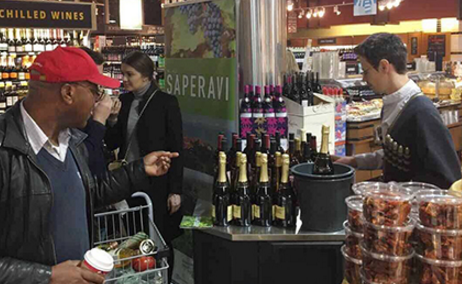 15.12.2016. Wines from Georgia are exploding in popularity in the United States this month thanks to a new campaign 'Well, Hello Saperavi' to promote Georgian wine made with the flesh and skin of red Saperavi grape varieties across Washington D.C.
Throughout December wine lovers, wine professionals and enthusiasts in the US are invited to try the unique taste of Saperavi wine during various wine events held in Washington D.C.
People will be able to taste dry Saperavi, best-buy Saperavi, qvevri Saperavi, natural-wine Saperavi, oaked Saperavi, young-vine Saperavi, old-vine Saperavi, Saperavi rose, semi-sweet Saperavi and juicy Saperavi.
During the one-month campaign different wine shops, restaurants and cafes in the city will host wine tasting events, which are being organised by the Georgian National Wine Agency.
The US is a potentially progressive export market for Georgian wine. The National Wine Agency has been actively carrying out marketing activities promoting Georgian wine, and there are more plans in this direction," announced the Agency.
During the first 11 months of 2016 Georgia exported about 294,000 bottles of wine to the US – 27 percent more than in the same period of 2015.
The first Georgian wine evening has already been held in Washington D.C. The event was attended by Georgia's Minister of Agriculture Levan Davitashvili.
Source
To add this Search Box to your website, click here. Many designs are available.