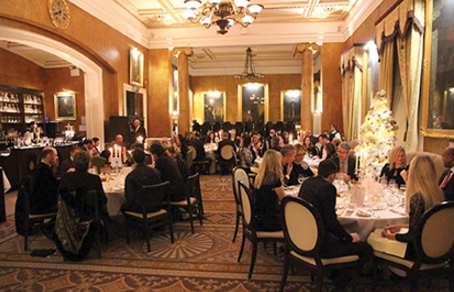 20.12.2016. After a celebration dedicated to the 10th anniversary of the Badagoni Wine Company held in the region of Kakheti last November, the Institute of Directors in London hosted a follow-up event organized by the Georgian Wine Club.
The Georgian Wine Club is a UK-based wine importing company, founded by Berdia Qamarauli and his business partner Dennis Muriu, with an online presence selling exclusive, Georgian Fine Wines.
"The event was one of the most important for us. Badagoni Wine Company is our biggest supplier and a trusted partner," said Qamarauli. "This year was especially important for them as it is their 10th year anniversary. The celebratory event was also a very important evening for Georgian wine in general. No such event has been held in the UK before and we are very proud that we managed to do it together with Badagoni and in association with British Georgian Chamber of Commerce and Georgian Embassy to the UK. The event was attended by representatives of the British government, business persons, UK media, and Georgian diaspora. The Georgian Wine Club intends to organize such events in future to help promote Georgian wine in the UK even further."
The celebration, held in a historic building, designed by 19th century architect John Nash who also designed the Brighton Pavillion and Marble Arch, was followed by a gala-dinner and a concert with Georgian musicians Liza Bagrationi, Nikoloz Rachveli and Giorgi Zagareli performing music by Giya Kancheli and other Georgian composers.
Qamarauli and Muriu talked about the history of Georgian wine and introduced a range to the guests. Serge Pradier, Food and Beverage Manager at the Institute of Directors was in charge of food and wine pairing- offering guests a detailed description and giving tasting notes for each of the wines.
Tamar Beruchashvili, Ambassador of Georgia to the UK, greeted the guests attending the event while Giorgi Salakaia, Founder of Badagoni Winery, expressed his gratitude and willingness to be more exposed to the UK market.
Mako Abashidze, Founder Director of the British Georgian Chamber of Commerce, then congratulated Badagoni on 10 successful years and announced the signing of the Memorandum of Cooperation between BGCC and the Solidarity Fund in Georgia, which took place during her last visit to Tbilisi "We plan to hold a series of fundraising events in London next year to raise awareness of the Georgian Solidarity Fund in the UK," she said.
Source
Win FREE bottle of Saperavi in our
Win!Wine
Lottery: Just write a comment to
this photo
. Happy holidays!
To add this Search Box to your website, click here. Many designs are available.