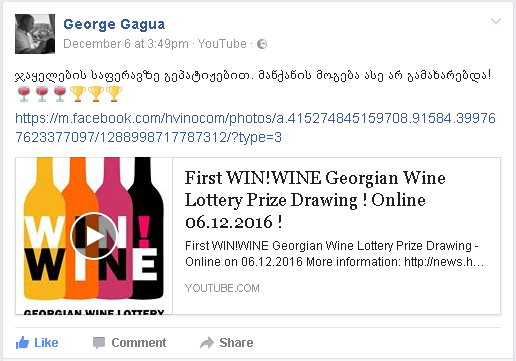 30.11.2016 (Hvino News) Many readers of
Hvino News
already know about the holiday present which we have prepared - our
Win!Wine
winter wine lottery.
Win!Wine
is not only about entertaining our readers, but is also aimed to help high-quality smaller wine producers to promote their products without spending large marketing budgets.
After seven days from launch the first prize drawing was performed online, which can be seen
here
. The first winner was George Gagua from Tbilisi. He is apparently quite an expert in Georgian wines so he appreciated the rare and exclusive organic
saperavi
which he won. "Winning a car would not have pleased me as much!" - reads Mr. Gagua's facebook page, where he is inviting his friends to taste his prize wine together (see screenshot).
The prizes will be drawn every week, on Tuesdays. Currently the second prize - a bottle of qvevri-made white Kisi wine from Milorauli - is available for win! To participate in lottery, just write any comment to the photo:
http://bit.do/prize-2
. (Attention: Just a "like" is not enough, you must write comment - any text in any language). This lottery is for people in Tbilisi region.
All the ongoing lotteries, with calendar, locations and description of prizes are posted on special lottery
page
.
"Win!Wine is non-commercial and completely free for everybody including the winemakers", - explained lottery organizers. "Even the smallest winemaker can afford to contribute a bottle of his wine as a prize to the lottery, and we will publish the label and description of his product". The lottery will be international, so people from many regions of the world will have the chance to win free bottles of best quality Georgian wines. The readers are only requested to like
Hvino News page
.
Happy Holidays and good luck!