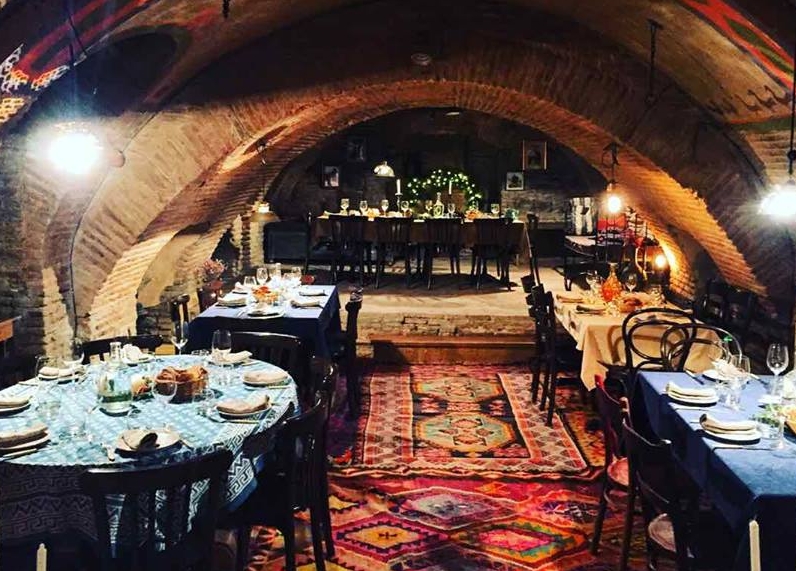 11.12.2016 (Hvino News). The polyphonic choir of Tbilisi's food and wine scene just got a new singer: Poliphonia is the name of a new restaurant in Georgia's capital city. It is a joint project of two creative people - an organic wine maker John Wurdeman and a film director Levan Koguashvili.
Poliphonia was inaugurated yesterday with an opening reception, which gathered Tbilisi's intelligentsia including writers, diplomats, journalists, business people representing tourism and food sectors.
A film director's touch is felt immediately in the colorful setting of the restaurant, opened in Tbilisi's historical neighborhood Sololaki, at Amaghleba Street 23
▼
Map
. The cozy interior is a mixture of European art-nouveau style with its century-old original chandeliers, and just a bit oriental chic with old carpets and traditional tablecloths.
A winemaker's influence is clearly reflected in the restaurant's menu, thought its wine list is not bombarding visitors with hundreds of hard-to pronounce wine names, like some other "shrines of wine" in Tbilisi do. The wine list is compact but carefully selected: all wines are organic (made without use of fertilizers and other chemical add-ons) from smaller boutique wineries.
Poliphonia serves seasonal Georgian fusion food paired with the wines. Chef Zuka Shonia has an innovative vision of traditional Georgian dishes. The "artisanal cheese plate" goes perfectly with wines, served with a fine sauce made with lemon and ginger, and accompanied by nuts covered with honey and jot
adjika
. The hot meals include excellent roasted pumpkin with pomegranate sauce, as well as oyster mushrooms. The meat lovers will appreciate tender pork marinated in honey, served with cornelian cherries.
With its relaxed cosmopolitan atmosphere and perfect service, Poliphonia has got all it needs to become a must for visitors and residents of Tbilisi. Recommended!
© Hvino News
To add this Search Box to your website, click here. Many designs are available.