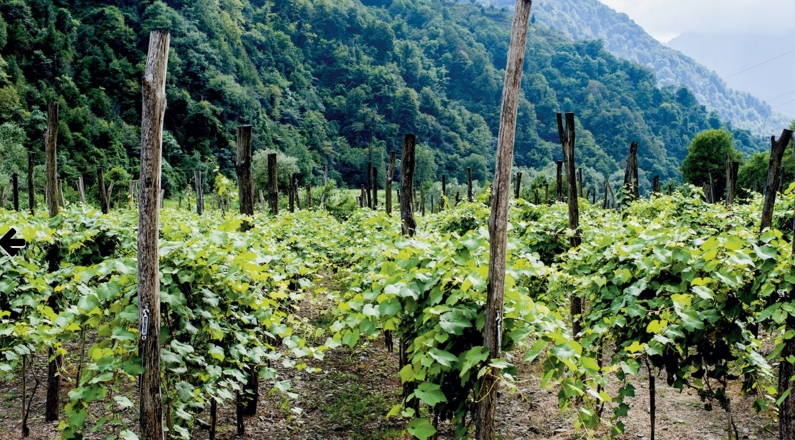 by Rob Crossan
07.12.2016. Why are Stalin's favourite wines on the UNESCO Intangible Cultural Heritage List? We head to Georgia's vineyards to find out.
TWO LITRES OF wine. In one gulp. From out of something that looks a lot like a horn transported from deep in the Austrian Alps.
"Yes, it happens," says my guide, Eka. "Sometimes to really get the feast going, it's considered necessary for each man to drink this much. That's before the party really gets started, of course."
This is the kind of wine consumption that would put lesser men (and women) into the nearest accident and emergency unit. But for a genuine supra – the Georgian word for an endless all day feast of food and wine – this kind of heroic (or suicidal) quantity of quaffing from a horn-shaped vessel is judged as the quickest and most efficient way possible to get a proper Georgian bacchanalia (aka drunken celebration) underway.
Luckily, the wine produced in this little-known corner of the Caucasus is a cut above what you might expect from a country on the fringes of the former Soviet Union.
Back in the days of the hammer and sickle, Georgia, a remote part of the USSR hemmed in by the Black Sea and the Caucasus Mountains, had a reputation among Russians similar to how Amsterdam is viewed by 21st century backpackers; a boho love-in of a place where wine, women and song flow freely compared to neighbouring states.
If you were a higher-ranking apparatchik in Moscow there was a strong chance that any state function you attended would have been fueled by Georgian wine. A favourite of Joseph Stalin (himself a native of Georgia), the wine's zest and freshness was adored by anyone who was lucky enough to have afforded a bottle in those frugal days.
Come 2016, and Georgian wine, now barely available in Russia due to import bans put in place by Putin, is looking west to find a whole new audience of followers.
"It's true that Georgians are nothing like Russians in our nature," explains Eka, a 28-year-old native of Tbilisi, the nation's languorously charming capital, who takes me into the wine region of Kakheti to explore the vineyards and villages of a country at the most extreme eastern edge of Europe.
"We may have been part of Russia for decades but Georgians have different personalities," Eka continues as we sit in the cobbled courtyard of the Pheasant's Tears winemakers in the village of Sighnaghi.
"We love to dance and sing and we're very open with our emotions. I think it's something that Russians always admired about us – the USSR never changed the way we live our lives in that sense."
Said to be the birthplace of the grape, Georgia has a wine tradition dating back 8,000 years and is home to over 500 grape varieties – incredible considering there are only 2,000 known to exist on the planet.
The age-old way still continues; namely fermenting the grapes in colossal clay vessels (known as kvevri), which are coated in beeswax. The 'European way' of making wine, ie letting it ferment in oak barrels, is considered rather lightweight by most Georgians. Handed my first glass of rkatsiteli, an amber-hued wine made by fermenting white grapes with their skins, the taste is an utterly unique explosion of intense tannins and lemon. It simply tastes very different to any other wine I've ever sampled.
Two reds I try, known as shavkarito and saperavi are as black as tar and have a big, punchy taste; this is a vampire's nocturnal elixir, redolent of boudoirs and moonless nights. The quotation written in chalk on a blackboard on the door of the tasting room is fully appropriate. Penned by British writer Sir Robert Caywood, it reads: 'compromise is for relationships, not for wine.'
It soon becomes obvious that merely sitting down in a chair anywhere in this region for any longer than five minutes is more than enough time for somebody to offer a stranger in town a drink. Though the surprisingly slimline frames and enquiring personalities of most Georgians attest to the fact that the wine here, with its age-old natural processes, doesn't tend to produce hangovers in the style of wines from other parts of the world. Plus, drinking on an empty stomach is considered to be a bizarre quirk that only applies to foreigners.
This is a land that adores concomitant food and conversation perhaps more than anywhere else in Europe. A strong shout, but it's difficult to think of anywhere that sets such high, and all but compulsory, store on long meals, fine wine and ebullient discourse.
Vineyards are plentiful in these parts. But none are more beautiful than Tsinandali. An estate that looks like the palazzo of a wealthy Italian merchant, this was the home of the eponymous Georgian military leader and poet who, in the 19th century, brought European-style landscaping to his grounds, brought the first grand piano Georgia had ever seen to his residence, and created a hub for visiting luminaries including Pushkin and Alexander Dumas, who called the retreat a 'garden of Eden'.
A true polymath of his age, it was Tsinandali who first began to revive the ancient Georgian methods of winemaking. His mansion hosts tasting sessions to this day. Underneath the searing sun, I sipped on a few lunchtime glasses of tsolikauri, a keen, young and impressionable wine that's perfect for languid afternoons; the Kate Moss circa 1993 of wines.
Just one afternoon spent here, amid the walnut trees and vast lawns, is more than enough to make you wonder why, despite receiving over six million visitors last year, Georgia is still such a little-known destination outside of the former USSR.
From the stone houses and overgrown pomegranate trees of Kakheti, we drive past semi-ruined monasteries, oxes and carts, and unherded pigs and cows idly jay-walking on our way back to Tbilisi.
An amber-hued shadow lies over the city at sunset. The Old Town, a jumble of alleyways and crooked, cobbled streets is slowly awakening from its afternoon slumber. Sleeping cats yawn on pavements, the air is thick with the smell of coffee and barbecued meats and the sound of hammers being clanged on rooftops by construction workers. Together it all creates an atmosphere of mildly chaotic conviviality.
Evening is no different to any other time of the day or night in Georgia, namely, this is a time to eat food. I head to a spot opened by eight of Georgia's leading natural winemakers. The subterranean Vino Underground boasts low, arched stone ceilings and serves a huge range of local wines all but unknown outside of Georgia.
The food comes in portions vast enough to sate Aramis. Huge slabs of khachapuri cheese bread, unctuous beef soup known as chashushuli, gargantuan fresh salads and, best of all, broth-filled dumplings stuffed with beef, veal and mushrooms called khinkali, little parcels of Georgian goodness that require piercing with a small bite and then slurping up the contents.
As the night draws late and the conversation turns to folk songs, which turns to more toasting which turns to more singing which turns to hugs which turn to back slaps which turn to, yes, some more toasts, a beaming Georgian man in shirt braces turns to me, with a glass in hand.
"One thing you should know," he tells me. "Georgia can do many things, you know. But we can't do anything without wine".
Source
To add this Search Box to your website, click here. Many designs are available.