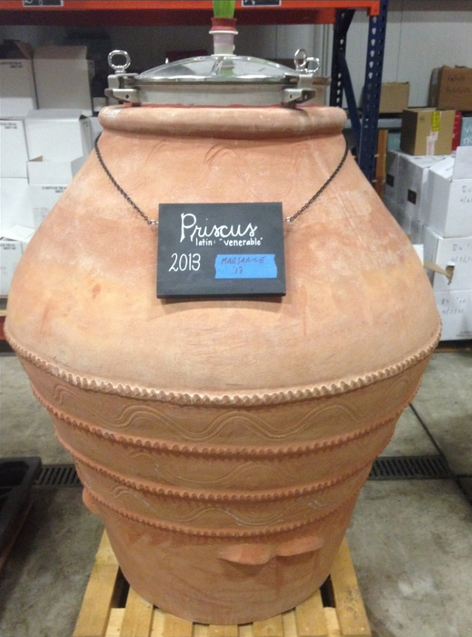 AMBYTH WINERY'S AMPHORA
FOODABLE WEBTV NETWORK
by Courtney Walsh
22.03.2015. Orange wines - no, not a wine made from oranges - have become all the rage at restaurants and wine bars nationwide. Named because of the extended skin contact the wine receives which imparts amber or orange hues, orange wines can be viewed as a sort of foil to rosé wines. As rosé wines are essentially red wines made in the style of a white, orange wines can be seen as white wines made in the style of a red.
While red wines are allowed to sit on their skins to extract color, tannin and flavor, white wines generally see little to no skin contact during the winemaking process. The grapes are generally pressed and the juice is quickly removed from the skins. With orange wines, however, the white grapes are allowed to sit on their skins for extended periods of time, ranging from several days to several months. This extended skin contact imbues these wines with a rich phenolic structure, resulting in a tannic grip and explosive aromatics unfamiliar to many white wine drinkers.
Thus, to taste these extended skin contact whites is an experience unlike any other. Those expecting a soft or creamy body will find a rustic grip on their palate. Notes of dried apricots, honey and a slight nuttiness are also common flavor profiles due to the oxidation many of these wines undergo. Explosive aromatics often jump from the glass, evoking exotic spices with a somewhat ethereal quality.
Yet while orange wines are a relatively new craze, they are in fact some of the oldest wines in the world.
A History of the Style
The Republic of Georgia is documented as the first country in the world to produce wine and the country's tradition of wine making has remained relatively untouched for thousands of years. Yet the wines that were produced here thousands of years ago were very different from the contemporary white wines we see today and were in fact orange wines.
These ancient wines were (and still are) produced inside what are known as qvevri, or large clay amphorae, that were lined with beeswax and buried underground with a large opening at the top. The grapes were added into these vessels as whole clusters, leaves and stems in all, and were left alone to begin fermentation naturally. The extended skin contact with the grape skins imbued these wines with a phenolic intensity, resulting in a gripping tannic structure alongside expressive aromatics.
Orange wines today are made through a variety of methods and while some chose to still employ the ancient qvevri, others instead just opt for extended skin contact without the oxidation.
Here are several of the winemaking regions that continue to excel in the style:
The Republic of Georgia
It is no surprise that the country responsible for the birth of orange wine is still the leader in crafting orange wines of superior quality. Here, traditional methods are still employed, including qvevris, and regional grapes are still utilized such as Kisi, Rkatsiteli, and Mtsvani. Producers such as Orgo, Pheasants Tears and Vinoterra are worth seeking out.
Friuli-Venezia Giulia
In northwestern Italy, aromatic and enticing orange wines are a specialty of the region. Though not always as tannic and rustic as their Georgian counterparts, wines from the Friuli-Venezia Giulia region are some of the most elegant orange wines in the world. Crafted from varieties such as Ribolla Gialla, Pinot Grigio and Sauvignon Blanc, perhaps the best known producer of the region is Josko Gravner, who is responsible for re-popularizing this style of winemaking.
Slovenia
Sharing a border with the Friuli-Venezia Giulia region, the tradition of orange wine production is also found in Slovenia. The wines produced here share some of the best qualities found in both the Republic of Georgia and their Italian neighbor. While some of the wines are produced in softer, aromatic styles, others are made in amphorae and are much more structured. The region's best known producer, Kabaj, makes some fantastic examples of the style using local varieties such as Rebula.
United States
Relatively new to the scene, wineries in the United States have begun emulating the traditional style of winemaking in places as unlikely as California's North Coast, Paso Robles, Santa Barbara and Washington's Walla Walla Valley. True to US fashion, these wines are made utilizing a variety of both modern and traditional methods in a wide range of styles.
Both the Giornata and Ambyth wineries of Paso Robles take a natural approach to winemaking and even go as far as importing their own qvevri from overseas. Giornata's beautiful Ramato of Pinot Grigio, evocative of Italian wines made in the same style, and Ambyth's skin contact Grenache Blanc are produced in extremely limited numbers and are amongst some of the first wines to sell out every year.
In California's North Coast, Scholium Project produces the cult favorite The Prince in his Caves wine, an extended skin contact Sauvignon Blanc. Unlike any Sauvignon Blanc you've ever had, this wine is amongst the very best domestic orange wines on the market. Scholium Project winemaker Abe Schoener also makes several white blends incorporating a percentage of grapes with extended skin contact, resulting in somewhat more accessible style for orange wine novices.
Other fantastic domestic producers of orange wine include Santa Barbara's Piedrasassi, which produces a fantastically complex orange wine of Albariño and Sauvignon Blanc, Donkey and Goat, which makes their crowd pleasing Stone Crusher alongside their partial orange wine, Sluice Box, and Oregon based Fausse Piste winery, which sources Viognier for their orange wine from the Walla Walla Valley.
Why Orange Wines?
A number of other regions also produce some stellar orange wines, such as the uber-natural wines of Spain's Vinos Ambiz, a winery that works to elevate local native grapes, such as Malvar, through extended skin maceration.
So while orange wines have a long history across the world, their sudden recent popularity may seem curious. Sommeliers and restaurateurs across the United States have suddenly rediscovered these ancient wines and more and more orange wines are appearing on wine lists at some of the top restaurants nationwide. Modern winemakers have also begun following suit, arguing that orange wines are able to give the best expression of terroir as the skins of grapes contain the best concentration of flavors.
The recent orange wine craze in both the food and wine industries can be attributed to three pre-existing trends already occurring in domestic wine markets:
The "rediscovery" of ancient and indigenous varieties and styles
An emphasis on harmonious food pairings
A newfound interest in natural wine production
For sommeliers, orange wines are an enticing addition to any wine list, allowing customers to experience a perhaps unfamiliar style of wine while simultaneously securing the sommelier's hipster status for their inclusion of the unusual and the obscure.
For chefs, orange wines offer an exciting opportunity for pairing dishes often viewed as "un-pairable." Orange wines also make for the perfect cross between the acidity of a white wine and the tannins of a red and are serve as a great bridge to employ in a tasting menu rather than jumping back and forth between serving whites and reds. In Los Angeles, Chef Michael Voltaggio of Ink became so obsessed with orange wines that he even began making his own.
So while orange wines have recently become all the rage, they are more than just a fad and are extremely versatile and intriguing options to include in any beverage program.