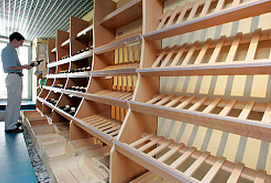 23.03.2015. Georgian wine exports to Russia are still pending. In 2015 Tbilvino has not exported a single bottle of wine to Russia, according George Margvelashvili, company's director, who commented for Georgian radio
Kommersanti
. Mr. Margvelashvili expected the situation would change in March and still hopes that supplies would be restored in April. However, he adds that Russia's share in total exports would be much less. So far, Russia's share in the company's exports is about 25% of the total exports. In his words, because of the delay, the company is not suffering losses, but due to the lost income and opportunities, the company's profit figures at the end of the year may be smaller than last year.
In this regard, Schuchmann Wines chooses a more flexible policy. According to the company's CEO Nutsa Abramishvili, the company is going to make some concessions, decreases prices and reduces the profit margin. In her words, due to the ruble devaluation, there are still delays, however, the stopped cargo vehicles are gradually entering the Russian market, and the situation is more or less stabilizing. At this point, Russia's share accounts 30% of Schuchmann Wines export though the company is working to reduce this shares to at least 15%. She says all wine producers must carry out diversification and balance the risks, enter stable markets that is not so simple in the short term, but this can be achieved with the state support.
Tbilvino's George Margvelashvili doesn't see an alternative to the Russian market within the next 5 years. However, the companies agree on the need of diversification in order the Georgian wine to find its niche in Europe and Asia. He believes the Georgian wine needs a higher level of marketing campaigns to make product more competitive.
To add this Search Box to your website, click here. Many designs are available.