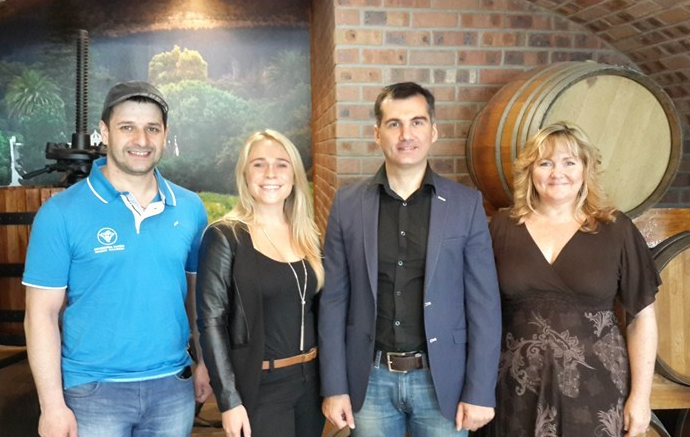 24.03.2015 (Hvino News). Young winemaker Tornike Chakhvadze from Georgia's Winery Khareba will be spending two months at Stellar Winery, South Africa's largest organic wine producer and the world leader in the production of no-added-sulphur wines. The cellar is situated at Kys Halte, in the Western Cape Province.
An exciting exchange program between South Africa and Republic of Georgia, the first of its kind, began this week with the arrival in Cape Town of Tornike Chakhvadze. The Georgian Ambassador Beka Dvali flew in from Pretoria to meet Tornike. The 2015 harvest is currently underway and this is the perfect time for him to gain experience of South African vineyard practice and winemaking.
This exchange was initiated and supported by South Africa-Georgia Chamber of Commerce (SAGCC). It will be followed by a reciprocal visit of a South African winemaker to Khareba Winery in Georgia.
On the photograph (from left) Tornike Chakhvadze (Winery Khareba), Emma Webber (Stellar Winery), Beka Dvali (Georgian Ambassador), Lee Griffin (Stellar Winery).
© Hvino News
To add this Search Box to your website, click here. Many designs are available.