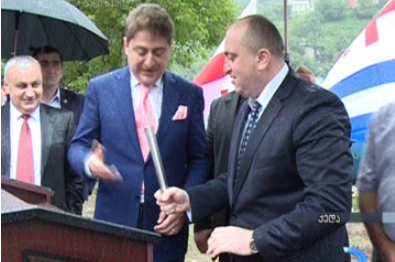 19.11.2014. (Hvino News) Kakhetian Traditional Winemaking (KTW) is planning to open its new plant in Keda, Adjara region, on November 22.
According to KTW's director Zurab Chkhaidze, the new winery will process about 600-700 tons of grapes.
The construction began last April, and costed 1 million GEL (about 559.000 USD). During the ceremony of project launch Zurab Chkhaidze and Chairman of Ajara government Archil Khabadze declared that the enterprise will start to work by the end of the year.
Zurab Chkhaidze noted that a tourist complex would be located in the area of the factory, where visitors will be able to learn about the history of Georgian wine and taste it. Winery will have its museum and premium wine cellars. They will open next year.
The investor also plans construction of fruit processing plants in Keda.
© Hvino News
To add this Search Box to your website, click here. Many designs are available.