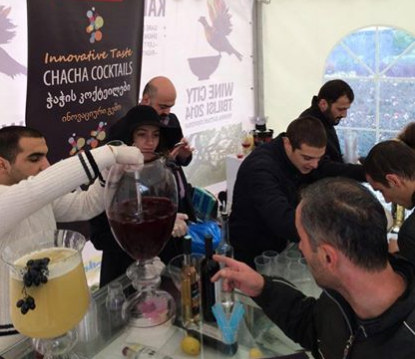 08.11.2014. Georgian companies producing spirits ask the state to pay more attention to them.
According to Zaza Tabagari, a consultant for strategic planning of Gomi, the entry into the foreign market requires very large amounts, for this reason the brand is not able to carry out large-scale activities.
Currently, the company exports its products only to Turkey and Latvia, where Gomi vodka holds only 2% of the overall market.
Tabagari brings an example of the Georgian wine companies promoted on the Russian market by the state.
"Do you think it's the companies achievement that their products are popular in the Russian market?
If Russians drink Georgian wine, do you think Englishmen will not drink? They will also drink with pleasure, but they are not aware of it, "- Tabagari notes.
He also says that the company is working on new products, which will appear on the market in six months. Gomi products, with prices range within GEL 6 – 25, are calculated for all segments.
USHBA Distillery marketing manager Tatuli Abesadze states that the company has not carried out exports for 2 months. In his words, Ukraine, Africa, Greece and Bulgaria were the main export markets and exports to these countries were suspended due to the political processes, Abesadze also adds that the contracts concluded with the above-mentioned countries ended.
He believes that the government less promotes their alcoholic beverages, that cannot be said in relation to wine companies. He says it would be good if alcoholic beverages were of the same priority as wine.
Director of the National Wine Agency Levan Davitashvili states that the marketing research revealed that
chacha
is much more popular in the world's markets than brand beverages, such as Eniseli, Vartsikhe and so on. Davitashvili notes that to promote these brands in the world, very large funds are necessary what marketers do not recommend to do.
In his words, this does not mean that the state will ignore this sector. He notes that in the near future the state plans to register geographical indications for these brands that will allow protecting these brands from bottling by anyone.
To promote
chacha
, the National Wine Agency offers
chacha
cocktails of the innovative flavors to restaurants and clubs. The National Wine Agency developed five recipes of
chacha
cocktail.
Source
To add this Search Box to your website, click here. Many designs are available.