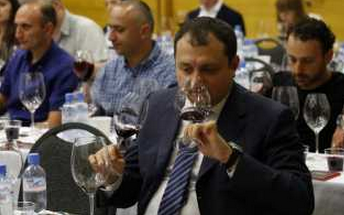 11.11.2014. Interview with Shalva Khetsuriani, president of the Georgian Sommelier Association:
What is the Georgian Sommelier Association and what is its purpose?
The Georgian Sommelier Association was established in 2003 and is a member of the international association. Our main function is strengthening and development of the culture of wine in Georgia and the popularization of Georgian wine abroad. Journalists in the field of winemaking, importers, distributors, government agencies, etc are involved in these activities. Especially, I would like to note assistance rendered by the National Wine Agency.
How are you going to implement your program aimed at popularization of Georgian wine and increase of its export potential? Overseas, demand for sommelier is quite high, especially in restaurants, what can you say about Georgia?
In Georgia, the sommelier profession is insufficiently appreciated yet, so we are trying to popularize it. The International Sommelier Association consists of representatives of 59 countries. They mainly operate in the premium segment, and much depends on them in terms of the promotion of wine in the market. Georgian wine needs sommeliers as well and this area is gradually starting to develop. Everything needs time.
Education plays an important role in development of culture of sommelier - we work closely with the various sommelier associations, which teach not only professionals but also ordinary wine lovers.
Abroad, wine is one of the few foods about which books and articles are written and magazines devoted to the subject are issued. The high level of sales of wine is just one of the consequences of advertising. This is the result of education in this area.
Therefore, we focus on the target audience, which then becomes a kind of our ambassadors and continues to popularize Georgian wine in their countries.
You participated in the General Assembly of the International Sommelier Association (ASI) held in the French city of Reims where your association has become a full member of the International Association. What rolw will it play for the popularization of Georgian wine?
The International Sommelier Association was established more than 50 years ago and brings together 59 countries. General Assembly meeting takes place once a year, mostly in Europe, and we are constantly engaged in them, besides, we are active participants in various international exhibitions and competitions, where we meet with the sommeliers that help us promote Georgian wine on international markets.
During this Assembly, we offered Georgia as a potential candidate to host the General Assembly of International Sommelier Association in 2016 and this issue will be reviewed in 2015, in Bordeaux.
If Tbilisi becomes the host city of the future conference, it means that representatives of the wine business from 59 countries will arrive in our country, as well as a large number of journalists and experts. All this will give us additional opportunities to promote our wines abroad.
Is a level of Georgian wine sufficient to fully compete in the international market?
Unfortunately, it is not. We should look at things realistically. Products of countries where winemaking has evolved over decades and more are included in the list of the best wines of the world.
Recently, an exclusive wine glass for Saperavi was designed upon your initiative. Is this paraphernalia important for the development of winemaking?
Austrian Riddle family, which has more than 200 -year history, created special glasses of special shape for all grape varieties that helps better perceive taste of each particular wine.
Riddle is a recognized company in the world and its glasses are used in the best restaurants throughout the world. We wanted to include Saperavi in a list of 20 best grapes. As a result of many years of negotiations with the State Degustation Commission of Georgia, winemakers, sommeliers, and representatives of other sectors related to winemaking, a unique form has been designed. The glass has developed for serial production and will soon go on sale.
Source
To add this Search Box to your website, click here. Many designs are available.