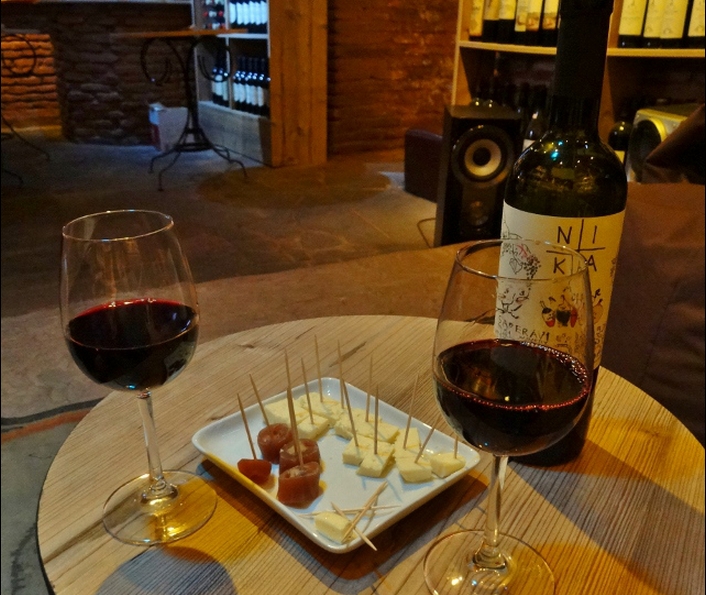 16.11.2014. When someone talks about "old world wines," they usually mean ones from the three wine-producing powerhouses of Europe: France, Italy and Spain. But whereas French wines can trace their roots back 2600 years, 2800 tops, Georgia's wine-making history goes much, much further.
Recent DNA studies of today's cultivated grape varieties point to Transcaucasia (that area between the Black and Caspian seas that now covers Armenia, Georgia and eastern Turkey) as the birthplace of viticulture and
Vitis vinifera
grapes, which account for the majority of wines produced around the world today.
Estimates place the start of viticulture around 6000 BC, possibly even earlier. Shards of wine-stained pottery have been found at sites in Georgia (dated to 6000 BC) and northern Iran (dated to 5000 BC).
There is an ancient Persian fable that credits a lady of the court with the discovery of wine. Falling out of favour with her King, a Persian Princess attempts suicide by drinking a jar of spoiled grapes. Instead of dying, her mood is elevated. Apparently, the King likes her new attitude so much that he admits her back into his good graces.
Whether this fable is true or whether Neolithic-era farmers themselves discovered the effects of spoiled grapes, wine is more likely the result of a fortuitous accident than human invention.
Over the next few thousand years,
Vitis vinifera
vines spread to other parts of Asia Minor, the eastern Mediterranean and onwards to the western Mediterranean, reaching southern France around 2600-2800 years ago.
On our travels, we learned that Georgia is the home of more than 500 native grape varieties, of which maybe 40 are used for wine production. Many Georgian wines are made from traditional grape varieties that are little known in the West. And while Georgian wines are well known throughout Russia and Eastern Europe, they haven't make much of a dent in the West. At least not yet.
Particularly Georgian are medium sweet wines, produced in both red and white, but dry wines are also produced. Saperavi (meaning "dye" in Georgia) is the most common red wine variety and Rkatsiteli is the main grape used for white wine.
Many families in Georgia grow their own grapes and make their own wine. There are a few commercial Georgian wine makers with names that you may see in wine shops around the globe, such as Teliani Valley, Badagoni and Mukhrani.
Interest in natural and artisan wine making is also on the increase, and the number of small wineries is growing. Along with that, Georgia's ancient tradition of
qvevri
wine-making is also making a comeback.
A
qvevri
is a pottery vessel that is buried in the ground to provide a constant cool temperature for the fermentation process. The entire wine making process takes place inside the
qvevri
, from fermentation through to maturation.
From ancient times until the present, wine has proved an integral part of Georgian culture, evidenced by the designs of vine, grapes and leaves on art, ancient artifacts and even churches. Important Georgian feasts feature a
tamada
, who acts as host and toastmaster, a position of great honour and long tradition. It is the
tamada's
duty to tell tales, recount jokes, provide wisdom and maintain a sense of order.
Another interesting Georgian tradition involves drinking wine from a unique style of drinking vessel known as a
kantsi
, made of animal horn that has been cleaned, boiled and polished. You usually find them displayed in pairs.
Although we were in Kakheti, the heart of Georgian wine country, we didn't have enough time to go wine touring. But that didn't stop us from sampling a few Georgian wines. Rather than traipsing around to different wineries, it is possible to sample a variety of wines at specialty wine shops. Here are three we liked:
Vino Underground (Tbilisi)
The heart of Georgia's natural wine movement. Here you can sample natural qvevri wines by the bottle or by the glass. Staff are enthusiastic to share their knowledge of the wines and the wine makers, who are all small producers.
Vino Ground (Tbilisi)
Similar to Vino Underground but with a wider range of Georgian wines available, including some of the more commercial brands for comparison.
Vinofactura (Sighnaghi)
In the heart of Georgia's Kakheti wine region, here you can sample a wide variety of locally made wines, or opt for the cheap and incredibly tasty house wine. You can also buy it to go. They'll pour some into a plastic pop bottle for you.
Our favourites all came from small artisan wine makers: Nika Saperavi, Otskhanuri Sapere, Jakeli, Alex's Saperavi and Pheasant's Tears Saperavi. Made in small batches, these won't be easy to find outside of Georgia, but they are definitely worth a look.
Source
To add this Search Box to your website, click here. Many designs are available.