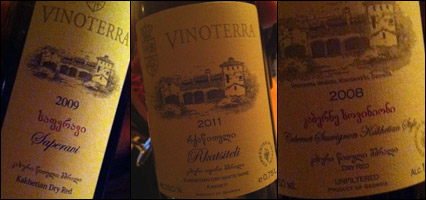 by Tim Lemke
23.12.2012. In my previous post about Georgian wine I promised that my next post would highlight some Georgian wines that I know are available in the US — and available at very reasonable prices. I'm not only going to fulfill that promise, but I'm going to do so while sharing with you the wines that impressed me the most on my visit to Georgia.
Schuchmann Wines is located in the village of Kisiskhevi, which is in the Telavi region of Kakheti province in Georgia. We arrived at the winery just before sunset, after a long bus ride on some bumpy roads. We were rather tired when we arrived, but glad to take a break from riding in the bus. The building looks almost like a hunting or skiing lodge and with a fog settling in at dusk, it was somewhat eerie.
The winery has only been around since 2002, although managing director Dr. Georgi Dakishvili is a third generation winemaker who has been around wine production all of his life. The winery gained an investor in 2008 and today has two main brands of wine, Schuchmann and Vinoterra. The main difference between those brands is that the wines under the Vinoterra label are all made in
qvevris
(underground clay vessels) while those with the Schuchmann name on the label are made using modern methods. We tasted wines from both labels during our visit and all the wines we tasted were good, although most of our focus was on the Vinoterra wines and those are the ones that most impressed me.
As you walk around the outside of the winery, you see
qvevri
holes on what you might think is a patio, as well as inside buildings. The
qvevris
are large clay pots, sized from 500 liters to over 3,000 liters. They are buried underground and show up as holes scattered across a brick floor. You must watch your step when you're walking among the
qvevris
. The
qvevris
are covered with slate stones when the wines are aging, making it a little safer to walk around.
Dakishvili impressed me with his humble, yet experienced and knowledgeable presentation of their wines. He didn't feed us lines of bullshit, but candidly shared that he sometimes finds faults in his wines. He said that he's never produced a wine he thought was bad, but he's found flaws in as much as 5% of the wines he's produced.
I also think Dakishvili is the first winemaker I've ever heard talking about microbiology related to winemaking. It was a reassuring to hear him addressing the topic as there were questions in the back of my mind about how safe it was to create wine in a clay pot, buried underground. The insides of the qvevris are coated with beeswax, which would seal them. But Dakishvili suggested that bad organisms could still get into the wines, and for that reason they always put the wines through malolactic fermentation after their time in the qvevri. The malolactic fermentation would kill any bad things that might have gotten into the wine.
Schuchmann/Vinoterra currently have about 65 hectares of vineyards and the vast majority of their vines are Georgian varieties, like Rkatsiteli, Kisi, Mtsvane and Saperavi. They do have some Chardonnay and Cabernet Sauvignon in their vineyards too.
As I was tasting their wines, I was both delighted by how good they are but at the same time heartbroken thinking that I would never be able to find these wines in the United States. But I was thrilled to learn that my assumption about distribution to the US was wrong. While I haven't come across them at any of my local wine shops in Cincinnati, I have found that they are available in the US—and at very reasonable prices. So, depending on where you live, you may be able to find these in your local wine shop—or you may be able to purchase them online.
While the wines really impressed me, I can see how they might be challenging to some consumers. Particularly the white wines, which I rather enjoyed, but present a different structure and flavor profile than the simple, fruity wines many consumers know. If you have an opportunity and a curious side to your palate, here are the wines I tasted that I can highly recommend.
Vinoterra Rkatsiteli 2011
The nose of this white wine offered intense floral aromas, but a I couldn't put my finger on the flower. It was a different floral than I'm used to finding in wines, but it was delightful. It also offers pear and peach aromatics. The palate has outstanding structure and mouthfeel, with lemon and pear flavors. The acidity is spot on. It finishes quite long and overall this is a beautiful wine. I have found it for sale in the US for the bargain price of $12.99.
Vinoterra Kisi 2011
Another white qvevri wine, this one offers light floral and peach aromatics. The palate is well balanced with a slight spice and a flavor I could only describe as "flower water." It's somewhat tannic and has sufficient acidity. The finish is long, with apple skin and tea flavors and a tea-like tannic quality. This was also a very good wine. This one sells for about $16.00.
Vinoterra Mtsvane 2008
Mstvane is another Georgian white wine varietal. This one was one of the most interesting wines we tasted, offering coriander,white pepper and apple aromatics. The flavors were reminiscent of tea with lemon, spice and a very nice tannic structure. The finish is quite long and again is rather tea-like. You can find this one in the US for about $12.00.
We also had the opportunity to taste a Schuchmann Mstvane made using modern techniques, which was an interesting comparison. The modern version had a chardonnay-like quality to it, showing apple and pear on the nose with good intensity The palate offered apple and peach flavors, with the peach lingering on the finish. This was a very good wine, but I did find the Vinoterra version of the wine to be much more interesting. Unfortunately I failed to note the vintage of the modern Schuchmann one in my tasting notes.
Vinoterra Saperavi 2009
Saperavi is the most prominent Georgian red wine varietal. This one has a spicy nose with intense raspberry, nutmeg and smoke aromas. It has a beautiful mouthfeel and structure, plus perfect acidity. The palate offers raspberry, cherry, and tea flavors that are perfectly balanced, harmonious and elegant. The finish is long and features cherry flavors with a slight spiciness. This is a superb wine, but the price is a touch higher than the whites. It goes for about $22.00.
Vinoterra Cabernet Sauvignon Kakhetian Style 2008
I would love to sit down with any Napa Valley Cabernet Sauvignon fan and have them taste their favorite Napa Valley cab alongside this wine to see if this one doesn't blow their mind. On the nose it offers nutmeg, toast, cherry, currant and mint aromas. The palate has great structure and good acidity. It's elegant and balanced, featuring cherry, black currant and blueberry flavors. The finish is super long with currant and tea flavors. This is an outstanding wine. Unfortunately, I haven't found this one for sale in the US but I'll keep my eye out for it. Let me know if you find it… and where!
Cheers!
Source