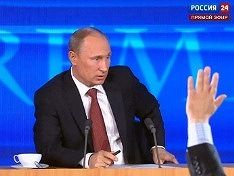 20.12.2012 (Hvino News) Russia's President Vladimir Putin spent 4.5 hours talking to reporters during live televised news conference on Thursday.
Regarding relations with Georgia, Mr. Putin said: "We see positive signals – so far very modest, but anyway positive signals coming from Georgia's new leadership. Not only we see that a special representative of the Georgian government for relations with Russia has been appointed, but we also welcome it."
Putin mentioned high quality of Georgian wine. "Yes, it is a tasty wine, Georgia has a special culture of wine making, different from West European one". A Georgian journalist asked Putin how soon it would be possible to return Georgian products back on the Russian market especially taking into consideration that Russia was already WTO member.
"We should look into our WTO obligations and if we have to do it we'll do it; we should follow our international obligations. It [import of Georgian products] is not significant for us, but it might be important for the Georgian economy," Putin responded.
"Georgia really removed its objections about Russia's WTO entry and we should be consistent and fulfill our obligations. I will look into this problem; probably this [problem] exists and it should be de-politicized," Putin said.
Russia banned import of Georgian mineral waters and wine in 2006 citing consumer safety concerns; the Georgian leadership denounced it as a political move. Georgia's new PM Bidzina Ivanishvili has said for number of times that it was President Saakashvili's tough rhetoric that led to Russia's decision to ban import of the Georgian wine and other products.
© Hvino News