15.04.2018 (Hvino News). Last winter our publishing house
Hvino News
organized the first
Saperavi World Prize
(SapPrize), Georgia's international wine contest for Saperavi producers around the world (read more
here
). Instead of traditional medals, to stress the Georgian dimension of this wine contest, SapPrize awarded original prizes inspired by ancient Georgian drinking cup usually made of silver and gold – so-called
azarpesha
. Three miniature
azarpeshas
, made of the same precious metals, became the Grand Prizes of Saperavi World Prize contest. These absolutely unique were hand-made by Zenaari company, which became the official provider of SapPrize awards.
Today our special guest is Zenaari's director
Tengiz Lominadze
, who tells about his brand:
"Zenaari is project, which helps Georgian artists to display best of their arts and crafts to global public. Our fundamental goal is to bring Georgian culture of handmade crafts to people who appreciate fine art. At this moment, we've gathered collection of handmade enamel arts that are characteristic to Georgian folklore and national character. Artworks and practical jewelry that are absolutely unique and cannot be found anywhere else. We create items with old traditional methods using smallest number of tools possible to achieve brilliant quality, to create bond between artists and people introduced to creations"
Hvino News:
What does your brand name mean?
Word "Zenaari" means "Above all" or "One that is above" because we think that art is the highest form of communication of ideas. Not only ideas but whole lifelong experiences, feelings – pain and joy, love and loneliness, whole philosophy and point of view of author can be fitted into the surface of physical material to be displayed in front of the curious eyes of people who are willing to look and interpret ...We think that one can always be sure that by art he will be fully understood.
Hvino News:
Can you tell about the jeweler, who actually made the prizes for SapPrize?
Jimi Lominadze designs enamel icons, jewelry and objects decorated with enamel. His jewelry is distinguished for its modest and restrained colors. Composition is not overloaded with decorative details; the author uses homogeneous, mostly geometric ornaments; the picture is simple, based on rhythmic movement of colors and the line. Motley diversity is absolutely excluded: colorfulness of the composition is mainly based on the light of silver partitions, structural leading details of the black color, combination of two colors and their tonal gradations. Exactly these elements determine the modes and expressive artistic language of the works.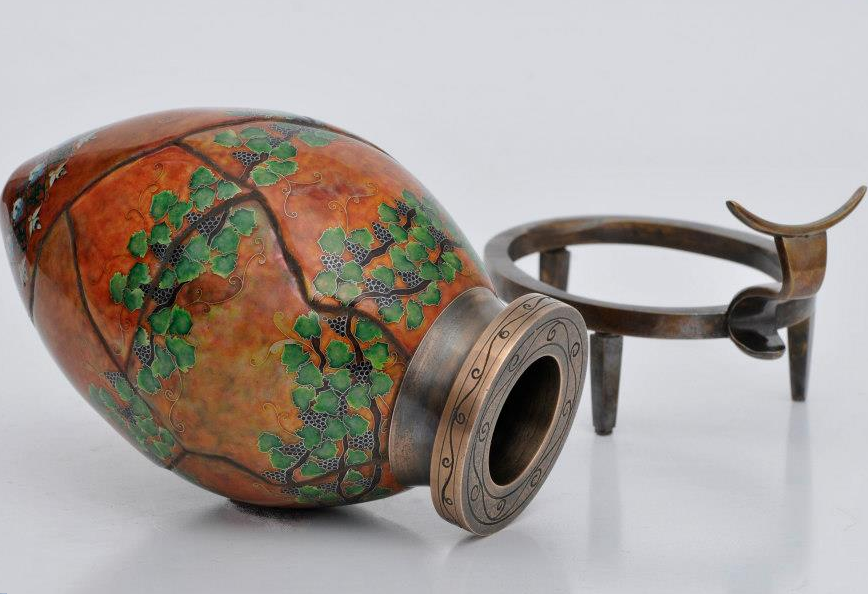 When creating icons he follows traditional principles; uses artistic ways characteristic for miniatures.
Jimi is, in some sense, pioneer of traditional enamel making, after finishing Academy of Arts he started his own workshop where he brought back old traditions of enamel making, by investigating old methods and experimenting in new ways for implementing them, sharing his talent with students who were participating in every step in the process. Many of them this days are beloved artists of Georgian enamel making.
His minor size enameled
qvevris
, adorned with vine branches and grapes or typical for highlands ornaments also thematically and artistically echo traditional expressiveness. Jimi has introduced many new ways of creating enamel artworks. At current moment he works on a new way of creating enameled artwork. His most notable, innovative style is Vitreous Mosaic which cannot be found anywhere else in the world. In comparison with traditional vitreous enamel making it takes twenty-five times more time and materials, not to mention exclusive craftsmanship, which takes decades of refining. To achieve such brilliance in mosaic creation one has to be true Master of his art.
© Hvino News
The First Saperavi World Prize: RESULTS