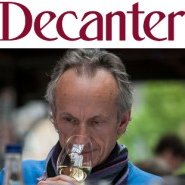 30.03.2018 (Hvino News). Leading wine magazine
Decanter
has just published another article on Georgian wine entitled "Georgia – finding its path", posted by award-winning wine writer Andrew Jefford in his series "Jefford on Monday". The author recently came back from his second trip to Georgia and summarized the difference he experienced since the first visit in 2013 (Andrew Jefford's articles from 2013 can be found
here
and
here
)
"Over the last half-decade, it's been hard to find a wine-lover who didn't dream of heading to Tbilisi", - Andrew Jefford noted in his introduction. "Wine lovers reaching Georgia discovered a country where the tendrils of the vine weave church, state and national culture together in a tapestry without parallel elsewhere... Metropolitan David of Alaverdi, one of the country's leading ecclesiastics, told me that, for Georgians, growing vines and making wine "was always a road back to God", that the birth of wine inside a maternal qvevri was "like a prayer," and that history had decreed that Georgia "became the Lord's vineyard".
The author not just touched upon the history of Georgian wine production and the recent economic developments, but also the growing popularity of
qvevri
wine method in the world. "The cultural appropriation of
qvevri
wine styles by advocates of natural wine, moreover, is the source of some frustration among Georgian wine producers, especially given the variable success rate of wines produced in this way by any but the very highest standards".
"During this second visit to Georgia, I concentrated on tasting a range of wines from larger companies, those comprising the bulk of the country's export offer, as well as a range of micro-vinified experimental wines from some of Georgia's many indigenous varieties made at the country's viticultural research station at Mtskheta. Tasting notes on some of these wines follow next week", - promised Andrew Jefford. The full text is
here
.
© Hvino News
The First Saperavi World Prize: RESULTS