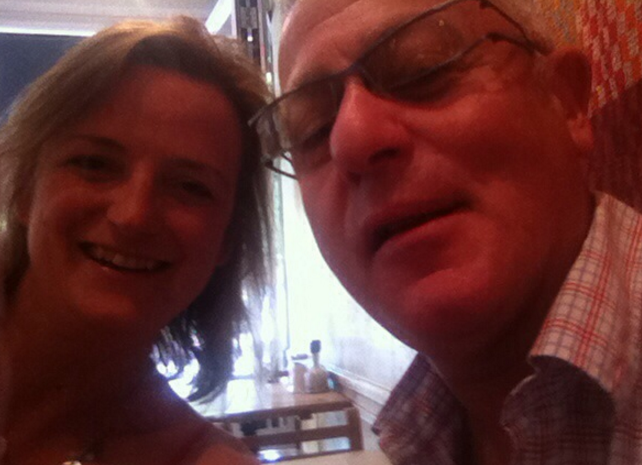 Ms. Abbott, Mr. Joseph. Photo: Sarah Abbott
by Sonya Hook
13.04.2017. The National Wine Agency of Georgia has launched a "major" 2017 UK trade campaign to build on record exports to the UK in 2016.
The agency announced this month that first-quarter exports for 2017 are up by 85% on the same period last year.
The campaign will be focused on raising the profile of Georgian Wines in the UK and expanding distribution in independent on and off-trades.
The country's National Wine Agency has appointed Sarah Abbott MW and Robert Joseph to lead campaign strategy and trade liaison, while Madeleine Waters - who has previously worked with Abbott on campaigns for Wines of Turkey - will manage trade PR.
Last month Abbott and Joseph ran a two-day workshop in Tbilisi for Georgian Wine Producers, to help them get a good understanding of the UK market. The seminar, which was attended by around 50 wine producers, offered practical, branding and commercial advice. [Read more:
British experts in Tbilisi discussed perspectives of Georgian wines in UK
]
Annual activities will include participating in the London Wine Fair and the Real Wine Fair in May, as well as dedicated Wines of Georgia tasting in June and masterclasses on Saperavi, Georgia's noble and native grape.
Abbott said: "Georgia is an incredibly exciting and inspiring wine country to work with. They have a unique wine style in orange
qvevri
Wines, and a great offering of conventional wine styles. Georgian national identity is powerfully linked to their wine culture – they are so proud of their wines, history and varieties."
Joseph added: "In the last five years the quality and value of Georgian wine has developed hugely. Sparkling and rose styles are particularly interesting, and Georgian wines now has a real proposition to offer all sectors of the UK trade."
Irakli Cholobargia, marketing director of the National Wine Agency, said: "We are really pleased to have the combined talents and expertise of Abbott and Joseph working on behalf of Georgian wine. The value of Georgian wine exports to the UK is growing, and with Georgian wine being listed in a growing number of top restaurants, the time is right for us to invest in developing this key market."
To add this Search Box to your website, click here. Many designs are available.