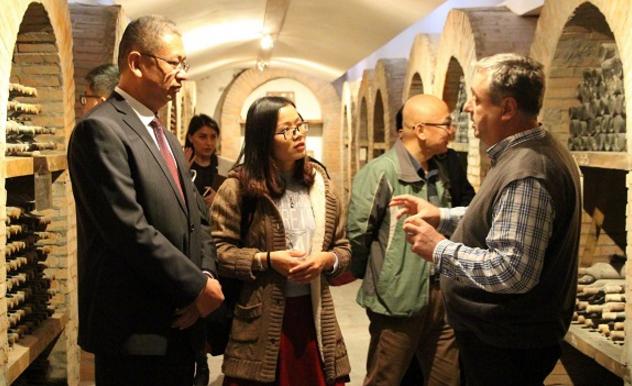 11.04.2017. Unique Georgian grape varieties will be planted in China's province of Ningxia that will raise awareness about Georgian grape varieties in the country.
For this reason a delegation from Ningxia is visiting Georgia's wine region of Kakheti to learn more about Georgian winemaking traditions.
They also visited different wine producing companies in Kakheti and were introduced to
qvevri
wine-making technology. Later the Chinese delegation also visited several vineyards in Kakheti.
"Recently the volume of investments made by China in Georgia has increased significantly, especially in the field of agriculture. Georgia has huge experience in winemaking and that's why it is interesting for China to learn from the Georgian experience. It is also important that Georgian wine exports to China are on the rise", said deputy Minister of Agriculture Iuri Nozadze.
The Chinese delegation noted that Georgia was one of the most important partner countries for China in terms of winemaking.
China is one of the largest importers of Georgian wine. The latest figures show that between January and March 2017 about 1,794,200 bottles of Georgian wine were exported to China. This was a 383 percent increase compared to the same time last year.
To add this Search Box to your website, click here. Many designs are available.