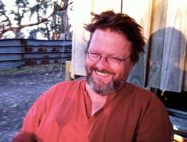 10.03.2017 (Hvino News). The
Australian Financial Review
has published a detailed article on Georgian wines. Authored by award-winning journalist Max Allen, the article is entitled "Georgian wines, part of an 8000-year-old tradition".

In his article Max Allen outlines that "Georgian wines are very trendy right now, especially in those corners of the wine world where all things organic and minimal intervention are sought after. In many ways, Georgia is the ultimate destination for devotees of natural winemaking. .... There are no additions at all during the winemaking process (no yeast, no acid, no enzymes, just grapes) and no fining, filtration or preservatives at bottling."
"Some of these wines can be a bit challenging to modern drinkers brought up on a diet of clean, fruity, approachable flavours. This is particularly so of Georgia's "amber" wines, made from white grapes fermented and matured for months on their skins in
qvevri
and which can be just as tongue-grippingly tannic as many red wines. Some of the more lo-fi, minimally manipulated examples can taste rather homemade, too (often because they are), even quite rustic and farmyardy at times. But the best (such as the three reviewed here) are full of beauty, charm, vitality and deliciousness."
The author reviewed three wines: 2015 Iago's Chinuri, 2015 Pheasant's Tears Kisi, 2015 Antadze Saperavi.
2015 Iago's Chinuri:
"In the careful hands and ancient
qvevri
of small-scale winemaker Iago Bitarishvili (he organically farms just two hectares of 60-year-old vines), the grape produces a pale amber wine with gorgeous green apple and honeysuckle brightness and a hint of refreshing dry-cider-like tartness".
2015 Pheasant's Tears Kisi:
"This, for me, is an outstanding example of what can happen when white grapes are fermented on their skins in
qvevri
: the result is an amber-coloured wine with entrancingly complex, spicy, wild forest perfume and amazing tannic grip in the mouth. Not for the faint-hearted, but a magnificent foil for rich Georgian food".
2015 Antadze Saperavi
: "Made from grapes grown in a relatively young vineyard and matured for only six months in
qvevri
, this is an exceptionally vibrant example of the dark purple charms of the quintessential red Georgian variety, saperavi. It has bold and intense fruit flavours of velvety blood plum and blueberry, and it coats the tongue in raspy, grainy tannins – crying out for the charry succulence of pork skewers grilled over coals".
"For me, and many other admirers of Georgian wine, it's the ancient and vital history of the country's wine culture that clinches the deal", concludes the Australian author.
The full article can be found
here
.
© Hvino News
To add this Search Box to your website, click here. Many designs are available.