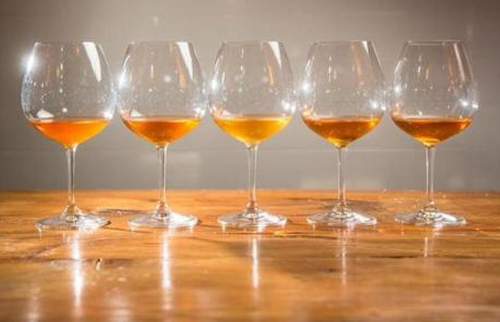 22.08.2014. One of us leads a neighborhood group in a monthly wine tasting and it's always fun to find new and different wines to try on a cozy group of eager oenophiles. Here, he can watch what wines have broad appeal and which get the silent treatment. At the end of the night, the preference is evident in how much is left in the bottles.
The last adventure included more challenging wines than normal -- a fizzy white vinho verde from Portugal that was admittedly shallow and an orange wine from the Republic of Georgia. We were most curious to see the crowd reaction to the Georgian Vinoterra made with rkasateli grapes.
It wasn't good. Tom ended up taking a second bottle home.
Orange wine -- named for its color -- is a result of maceration, or skin contact, that is more common to red wine. Usually, winemakers remove the skins after the crush to keep the color pure. The gold color usually comes from barrel contact and aging.
In the Republic of Georgia, however, it is all about tradition. These orange wines have been made in
qvervis
— ancient clay vessels — buried in the sand for 5,000 years. To the winemakers, extended maceration of white grapes is not just a novelty.
We have tasted a lot of Georgian wines and find them fascinating for their unique style. But they are too off-the-wall for most consumers. There is no reference point for anyone who confines himself or herself to chardonnay and merlot.
Many observers believe orange wines are a trend and we agree. Abe Schoener of The Scholium Project has been making orange wine for some time now. His cult following embraces these wines, but others find them over the top.
It is hard to describe the flavors of orange wines, but we find the wines to be savory -- a taste recently labeled
umani
-- but also funky and cerebral. You think when you taste them. But some people just think they are bad wines -- like those that have been left opened in the refrigerator too long, or as one person commented, like they have been aged too long.
We found them much more enjoyable at room temperature when the acidity mingles better with the fruit.
Copyright © 2014 Capital Gazette.
Source
To add this Search Box to your website, click here. Many designs are available.