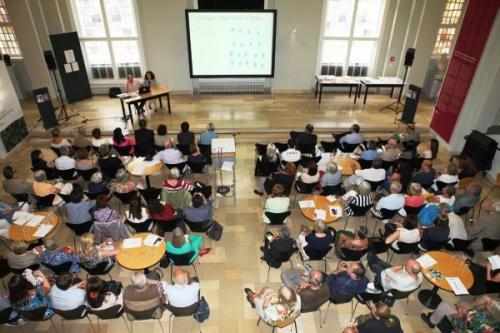 Photo: vinoge.com
10.08.2014. On August 7, an evening of Georgian wine was held in Berlin, at the Museum of European Cultures and hosted by Malkhaz Kharbedia, the President of the Wine Club. The event was part of the Georgian Culture Days festival that started on July 31 and will last till August 30. The Georgian Culture Days have been organized by the Georgian Embassy in Germany and supported by Georgian National Wine Agency.
In the beginning of the evening, Malkhaz Kharbedia gave a brief presentation about Georgian wine that summed up the history of viniculture and explored Georgia's Protected Designations of Origin in the end. The presenter touched upon the earliest traces of winemaking and viticulture found on the territory of Georgia, which had led the country to acquire the title of "The Cradle of Wine." He also talked about the wine producing regions of Georgia, the current state of Georgian viniculture and more importantly, about the traditional method of
qvevri
winemaking, the topic, which Malkhaz Kharbedia discussed closely during his speech.
The presentation was followed by a tasting of Georgian wines that featured 12 best samples of different styles ranging from white dry wines such as Telavi Wine CellarMstvane and Kisi blend 2013, Badagoni Kakhetian Noble (Kakhuri Tsarchinebuli) 2012 to oak-aged white dry wines such as Lukasi Tsinandali 2011,Vinoterra Kakhetian amber qvevri wine – Kisi 2012 and Tsikhelishvili Winery Rkatsiteli 2012. The tasting also offered a Rosé wine of Chateau Mukhrani– Tavkveri Rosé 2013 and red qvevri wines such as Khareba Winery Aladasturi 2012, Chelti Saperavi 2011 and Nika Winery Saperavi 2012. In addition to these wines, there were also Jakeli Vineyard Khashmi Saperavi 2011, Shumi Winery Mukuzani 2011 and Tbilvino Khvanchkara 2013 served for tasting. The attendees of the event favored largely organic and natural wines. As expected, qvevri wines were of particular interest to the guests, who were eager to learn as much as possible about this wine.
All in all, it was a successfully organized evening devoted to Georgian wine. The organizers, along with 100 guests attending the event at the Museum of European Cultures, said their farewells hoping that Georgian wine will expand more and more on the German market and be available not only in the off-trade, but become popular in the on-trade as well.
© Georgian Wine Club/vinoge.com
Source
To add this Search Box to your website, click here. Many designs are available.