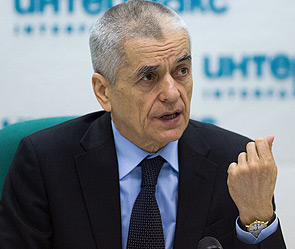 17.07.2013. (Hvino News). Russian Chief Sanitary Inspector Gennady Onishchenko expressed satisfaction with the quality of Georgian wine, Russian news agency
Interfax
reported.
Six Georgian companies have delivered 141 batches of alcohol products with a total volume of 617,077 liters. 61 batches with a volume of 226,579 liters arrived last week.
292 state licenses were issued and 53 more are on the way. 27 of them were granted to wine producers. Six companies have already started selling their products to Russia.
Mr. Onishchenko supposed that imports of alcohol products from Georgia would not significantly affect the Russian market.
© Hvino News