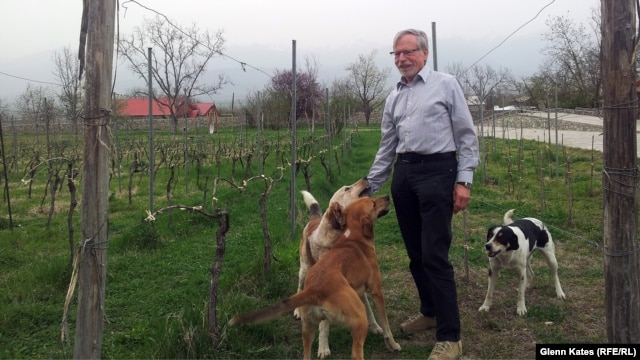 Photo: RFE/RL
By Glenn Kates
17.04.2013. Burkhard Schuchmann opened a winery in Georgia because he thought he could compete outside of Russia by modernizing the industry.
Seven years ago, Burkhard Schuchmann, a retired German railroad executive, arrived for the first time in this lush region, where the snow-capped Caucasian mountains cast a long shadow over the grapevines that line the low-lying fields.
It was 2006 and Russia had recently imposed a crippling embargo on Georgian wine.
Schuchmann decided to open a winery nevertheless.
"To see it from today's point of view, Georgians can be lucky that the embargo came," Schuchmann says. "Because then they were forced to [focus on] quality and to think about marketing. There was no need before."
After mostly "satisfactory" inspections by Russia's consumer-rights agency in February and March, Georgian wines will soon be sold in Russia again. But Russians, perhaps expecting the sweet, syrupy taste of years past, may be surprised by the changing nature of Georgian vintage.
In 2005, Georgia exported 80 percent of its wine to Russia. But in the seven years since the embargo, Georgian winemakers, frantically seeking to appeal to Western markets, have dramatically shifted their technique, changing both the processing and the taste portfolio of the wine.
Four generations of the Nikolaishvili family have made wine in Kakheti.
At the same time, in Russia, with inexpensive Georgian wines absent from the market, imports from France, Italy, and Spain have made impressive gains. Now a vastly changed, more expensive wine is about to enter a more diverse market than the one it left.
Schuchmann, who hired a third-generation Georgian winemaker to create his products, has invested about $10 million and exports mostly to Europe and Central Asia. He says he came to Georgia because he believed that the alluring grape varieties, combined with the region's long history of viticulture, could make its wine competitive in previously unexplored markets.
Bigger But Maybe Not Better
A few miles up the road from the German entrepreneur's winery, Nikoloz Nikolaishvili manages the family vines that were first set by his great grandparents over a century before Schuchmann arrived.
He has also made changes -- not in the quality of the wine, which he insists has always been premium, but in his processing methods. About five years ago he bought a European style crusher, which unlike the Georgian one, separates the grapes from their bunches.
"When there comes a demand, there comes a need to do something," he says.
Real demand for his wine has only materialized in the last decade. In Soviet times, when the sale of wine for private profit was forbidden, only family and friends could enjoy the fermented fruit of the Nikolaishvili family's labor.
Burkhard Schuchmann's wine-processing plant.
There are hundreds of varieties of grapes in Georgia, but the Soviet Union's alcohol authority restricted wine harvests in the country to fewer than 20 sorts. Forced, like other industries, to meet quota demands, the quality suffered. And the methods of production were, say people here, no more Georgian than they were European.
Nonetheless, Georgian wine was largely viewed as superior to the mainstream Moldovan and Russian options. When the Soviet Union collapsed, wines from Georgia remained popular and there was little incentive to update the processing methods. By 2005, 80 percent of Georgian wine exports went to Russia.
A Resurrection Of Sorts
In 2006, two years before the Russia-Georgia War but amid increasing political tensions, Russia banned imports of Georgian wine, citing sanitary violations. The decision was widely seen as politically motivated, but there was also widespread acknowledgment that much of the wine being shipped to Russia did have unnatural additives.
"In Russia we were selling everything," Otar Sharashenidze, a manager at Vino Underground, an upscale organic wine cellar in the Georgian capital, Tbilisi, explains. "If there was a sign on the label that it was wine, they just sold it; it didn't matter if it was good wine or bad wine, they were selling it."
The embargo, somewhat paradoxically, both accelerated the adoption of modern European methods and contributed to a resurgence of ancient Georgian means of viticulture dating as far back as six millennia.
In the old style, the grapes are mashed together with their bunches and placed in a "qvevri," or clay barrel, where they are manually pressed and turned for 10-12 days. They are then sealed and stored for at least a year before being bottled. The process creates a thicker, typically drier wine, or, as one Kakheti guide called it, a "manly" flavor.
Large wineries, like Schuchmann's, which currently produces 30 percent of its wine in qvevris, are hoping the unique style can set it apart from other European vintages. Nikolaishvili's family splits production between qvevris and European oak barrels.
'Buy Or Don't Buy'
According to Artur Sarkisyan, director of the Union of Sommelier and Experts of Russia, neither the rejuvenated Georgian standard nor the European processed wine will suffice to give Georgian wine the preferred place in the Russian market that it once enjoyed.
According to Sarkisyan, who participated in the Russian inspections of Georgia's wines, the market has become more sophisticated in recent years.
"There's just a certain nostalgia for Georgian wine," Sarkisyan says. "Because of this nostalgia, when the wine first enters the market people will buy it, but they'll find that the price won't be less than 300 to 400 rubles for a bottle. That's already in the category of wines from Chile, Italy, and Australia. So people will have a choice -- buy or don't buy Georgian wine."
Combined imports to Russia from France, Italy, and Spain have risen from 11 percent in 2006 to 50 percent in 2011, according to the Union of Oenologists and Winemakers of Russia. Perhaps as a precursor to the fate of Georgian vintage, Moldovan wine, which was banned in 2006 and then reinstated, has suffered serious losses in market share.
Bottles of wine at the Chelti winery in Kvareli before their shipment to Russia.
Russia began considering an end to the embargo shortly after Bidzina Ivanishvili battled his way into the prime minister's seat, defeating the party of President Mikhail Saakashvili, who has had a bitter relationship with Moscow. Ivanishvili has talked of improving the relationship with Moscow and has promoted resumption of trade as important to strengthening the Georgian economy.
Russian thirst for Georgian wine still appears strong. Schuchmann said that at a major wine fair in Germany more than half of inquiries came from Russian distributors. And Sharashenidze, the Tbilisi manager, said Russians are his best customers -- buying bottles to take home by the dozen -- despite the absence of the sweet stuff they may have remembered from years past.
'We've Survived'
The Georgian wine industry, though, has learned to survive without Russia. Although overall exports dropped sharply from a high of $81 million in 2005, they have risen since. In 2012, according to the Georgian Wine Association, exports reached $65 million, a 19 percent increase over the previous year.
Schuchmann's winery in Kisiskhevi has been shortlisted for permission to export to Russia. But he says this will constitute a minority of his sales.
"That's wonderful with Russia," Schuchmann says, "but not more than roughly 25 percent of my production will go to Russia, because I don't want to make the same mistake as they did in the past -- to become dependent on one market."
When asked about the end of the embargo, Nikolaishvili, his nieces and nephews playing among the grapevines that they may tend one day, is stoic.
"We've already had several years to turn away and toss out our dependence on Russia and we've survived," Nikolaishvili says.
Source