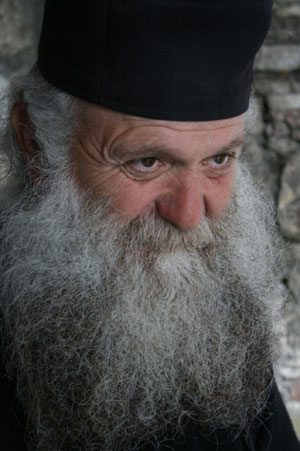 by Andrew Jefford
24.04.2013. Empty bottles lined the windows, greening the grey Tbilisi afternoon; I sat next to Metropolitan Davit of Alaverdi in the gathering gloom. We stared together at a deeply coloured white wine in our glasses. It had been made at his monastery.
That wine seemed, strangely, to gather and amplify the remaining light. I asked the bishop (a former architect) what words he might use to describe it. "Golden wine," he said, after a pause. "Gold is a thing of great value. When the painters were choosing colours, gold would give the most depth of impression. The wine has spring aromas, but at the same time those of golden autumn, because it has passed through those periods. You can even feel a bit of winter freeze in it, a coolness experience. If gold could have an aroma and a flavour, this would be it." And then his iPhone rung.
The following day, I was tasting in the cellar of Alaverdi Monastery in Kakhetia with one of the bishop's fellow monks, Father Ioseb. The sky darkened as we arrived at the scattered buildings, parts of which have seen 1,000 years of winemaking, and the rain began to spatter. Thunder followed; rain became hail; then the lights went out, sinking us in darkness. Someone brought candles; the golden wine became more golden still, while the red wine blackened. "We were waiting for this storm," murmured Ioseb, a little later. "When the first thunderstorm of spring comes, it's a sign that the first
qvevri
should be opened." (A
qvevri
is a buried clay fermentation jar.)
Even a cursory study of the history of wine underlines the influence of religion (especially Zoroastrianism, Judaism and Christianity) on its development. For many wine lovers today, of course, the link is anecdotal; wine has become a wholly secular pleasure. Not, though, in Georgia. Nowhere on earth does wine's history infuse its present more comprehensively than here. When I finally landed in Tbilisi a little earlier this month, I felt a little like a Jew making aliyah. Historically speaking, this is Wine Central: 8,000 years of unbroken tradition.
I will write about practical matters – indigenous varieties and clay jars -- soon: an anticipated fascination. What I hadn't foreseen was the intimate interweaving of viticulture with national identity here: Georgia considers itself far more of a 'wine nation' than does France. The national saint (and bringer of Christianity to Georgia) is St Nino, whose distinctive droop-sided cross is so shaped because it was made from vine wood and bound with her own hair. Visitors will be told that Georgian fighters traditionally carried vines in their armour. If they fell, a vine would grow; travelers would then know a Georgian had died there. "A man without a vineyard is a pauper," declared Georgia's C18 polymath monarch Vakhtang VI in his Book of Laws, "no matter how many estates he may have." Geography means that the country has been much invaded; viticulture and winemaking has been both an act of defiance and of endurance."The country turned into the Lord's vineyard," claimed Bishop Davit in a 2011 sermon.
Half of the population, he told me, either work in vineyards or make their own wine in some way. He grew up in Tbilisi itself, yet he remembers his parents used to buy grapes in the countryside and made wine in barrels on the balcony of their flat. "Many do this without realizing why they are doing this." Was it, I wondered, because Georgia had been a frontier between the Christian world and the Islamic world?
He rejected that idea, pointing out that Georgian vine-tending pre-dated the Islamic proscription of wine not just by centuries, but by millennia. "In origin, it was always a road to God. Growing grapes and making wine without praising God doesn't make any sense. For many Georgians, wine is a connection to God, a thanksgiving to God, a road back to God." Even qvevri, he claimed, were a part of this process. "God created man from clay; qvevri are made from clay and lie up to their necks in the earth; they give birth to wine like a mother to a child, from within, and from within the earth. Then the wines age, like a child grows. The whole process is like a prayer." So were wines made it qvevri 'more spiritual' than conventionally made wines? "I fully agree, but it would be a bit pretentious to say it loudly. Perhaps we can say that wines which have lost their stems and their skins very early are motherless."
Of course you don't have to be a believer to enjoy the strange beauty of Georgian wines; hedonic magnetism is enough. The best of them – much improved since the (recently repealed) Russian ban of 2005 – may, I suspect, prove be some of the most influential produced anywhere around the world over the next decade. This spiritual tradition, though, certainly gives Georgian winemakers a unique sense of purpose. "Hence we love earth," continues Bishop Davit in that 2011 sermon. "[It is] our homeland not only because our ancestor's bones, sinews and gristle, turned into dust, lie in it … [but because it is also] a thread of memory tied in the sky. It is a bitter nerve of our fall. It is a key to the covenant given to us – humble labour. It is the root of the vine – the Lord's blood." You don't hear this sort of thing much in Bordeaux, or Adelaide, or Napa. Alone in a vineyard, though, the long echo may console.
Source