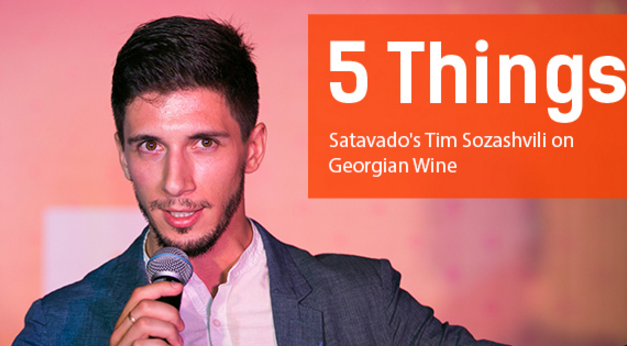 by Vivian Liu
08.08.2017. We ask Tim Sozashvili about drinking Georgian wine in China – and yes, that would be Georgia the country.
What is your connection to Georgian wine?
Every Georgian is somehow connected to wine. My grandfather has a vineyard and he makes wine at home, in Georgia. My uncle's winery is 102 years old, and it's been developing over a century to make the best wine possible. I've seen it and I grew up with it.
What's so special about Georgian wine?
It's got a whole history behind it – Georgian wine is the oldest wine. Wine originated in the Caucasus, where Georgia is. French and Italian wines are famous, but wine culture spread there from the Caucasus – and recently French wine scholars finally admitted that Georgiais the cradle of winemaking.
There's a lot of tradition behind Georgian wine. I'm not saying that everyone drinks according to tradition all the time, but you should know the significance of wine in Georgia. In Georgia, wine is about connecting with other people and sharing your knowledge or experience with them. You toast around the table, and then everyone shares some thoughts on a theme, which is decided by the host of the table – the Tamada.
Second, there are almost 500 species of vine in specifically in Georgia, among which 38 species of grapes are used to make wine. More than that, the technology of making wine is different from European techniques; Georgian wine is made from what's called the 'gravitational method of winemaking' where grapes ferment in huge, several-ton clay pots that are buried in the ground.
Which Georgian wines do you personally like and recommend?
People are always a little surprised when I tell them that I don't really drink much wine. I drink wine in small amounts, and my grandfather did so everyday and lived up almost until 90. I have several friends and with them I like to have some winetasting evenings to try different wines from the old and new worlds, but my all time favorite still is Georgian dry white wine.
How does the price range of Georgian wines compare to other wines?
In China, a bottle of French wine can be around RMB 300-400 [45-60 US$ -
HN
], and I know a lot of people who buy these wines because they think the more expensive it is, the better it is. I can give you a bottle of Georgian wine that's RMB188 [28 US$ -
HN
], and it will be as good as or even better than all other RMB 300-400 wines. But of course, it comes down to what you like.
What is your goal for Georgian wines in China?
Our job is to let Chinese people know about our country, Georgian wine and the history and tradition behind it. In that way, we're sort of like cultural ambassadors from Georgia.
To add this Search Box to your website, click here. Many designs are available.