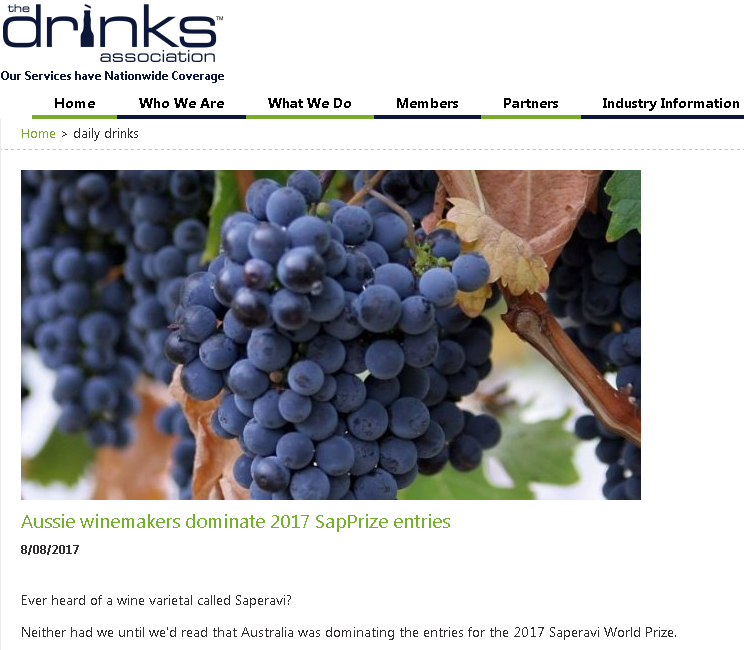 10.08.2017 (Hvino News).
Saperavi World Prize
, organized by
Hvino News
this year for the first time, has recently received significant media coverage in Australia. High media's attention is caused by active participation of Australian winemakers in the contest in Georgia.
In
Drinks Bulletin's
article
"Aussie winemakers dominate 2017 SapPrize entries"
the author Alana House writes:
Ever heard of a wine varietal called Saperavi?
Neither had we until we'd read that Australia was dominating the entries for the 2017 Saperavi World Prize.
Saperavi is the European nation of Georgia's signature grape. David Williams describes its grapes in The Guardian as producing "deeply coloured wines with a kind of wild, almost untamed intensity of tannin, finger-staining fruit and acidity that has very few peers."
Saperavi vines are found in Australia, United States, New Zealand, Central Europe, and former Soviet republics.
However, it's a relative unknown in many countries outside Europe. It was only recognised by the US Alcohol and Tobacco Tax and Trade Bureau as a variety in 2014.
"About 20 years ago there was an effort to clear up confusion and remove 'faux' grape names that were for marketing purposes only," Marti Macinski from Standing Stone, an entrant in the Saperavi World Prize, told the Star Gazette. "My guess is that no one was labeling a Saperavi in this country, so no one spoke up and said 'hey, let's include this grape' and it simply did not make the list." (full text here)
Dan Traucki, director of Wine Assist consultancy (Australia) writes:
"Hvino News has become interested in what the rest of the world is doing with their variety... These wines will be judged in Georgia, against other non-Georgian Saperavi by a panel of five international wine judges. How clever is that!
They get to see what winemakers around the world are doing with their variety, whilst the winemakers get to benchmark themselves against all the other 'newbies' in Saperaviland" (full text here)
On August 8th the industry's leading
Winetitles Media
published an article
"Australia dominates Saperavi awards"
in its
Daily Wine News
newsletter, which reads:
Saperavi, the "signature" Georgian grape variety, is becoming increasingly popular around the world. Saperavi wines are produced in Australia, USA, New Zealand, Central Europe, and former Soviet republics.
13 of the 19 producers that have entered the competition have come from Australia, demonstrating the variety's success. (full text here)
Entry in Saperavi World Prize (SapPrize) is still open to winemakers outside Georgia who produce wines from Saperavi variety. Entry in SapPrize is free. Official website is
http://sapprize.hvino.com
.
© Hvino News
To add this Search Box to your website, click here. Many designs are available.