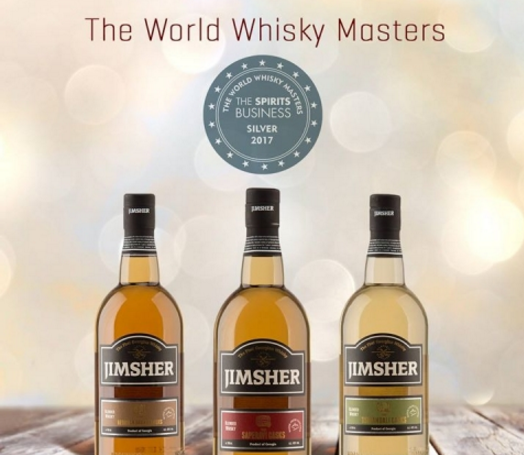 16.08.2017 (Hvino News). Georgian whisky Jimsher has won silver awards at World Whisky Masters 2017competition in London.
"The first round of the competition, Europe – Blended Standard, produced two Silver medalists hailing from Georgia: "easy drinking" Jimsher From Georgian Brandy Casks and "waxy, fruity" Jimsher From Tsinandali Casks. Moving into the Europe – Blended Premium round and Jimsher's success continued, with Jimsher From Saperavi Casks securing a further Silver for its "gorgeous nose", - reads the article on The World Whisky Masters 2017 results, published in
The Spirits Business
by editor Amy Hopkins.
The Spirits Business
is international spirits magazine and the organizer of World Whisky Masters contest.
On the whole, judges were pleasantly surprised by the level of quality on display, and were excited at the prospect of more varieties coming to market and challenging consumer expectations. As judge Chris Tanner concluded: "Forget what you think you know about world whisky. There's a whole world out there."
Jimsher Whisky is a new brand created by Jimsher Chkhaidze who heads Askaneli Brothers winemaking company. It claims to be prepared with unique method with its second stage of aging in casks, where traditional Georgian brandy was previously kept, the method which is said to bring a unique aroma and taste "making you to re-discover whisky with a Georgian accent." Read also
Georgia to produce whiskey
.
Launched in 2008, The Global Spirits Masters is divided into 15 separate competitions to ensure each spirit category is given the attention by specialized judges. It includes The World Whisky Masters, as well as the Scotch Whisky Masters, The American Whiskey Masters, The Irish Whiskey Masters, The Gin Masters, The Cognac Masters, The Brandy Masters, etc.
© Hvino News
To add this Search Box to your website, click here. Many designs are available.