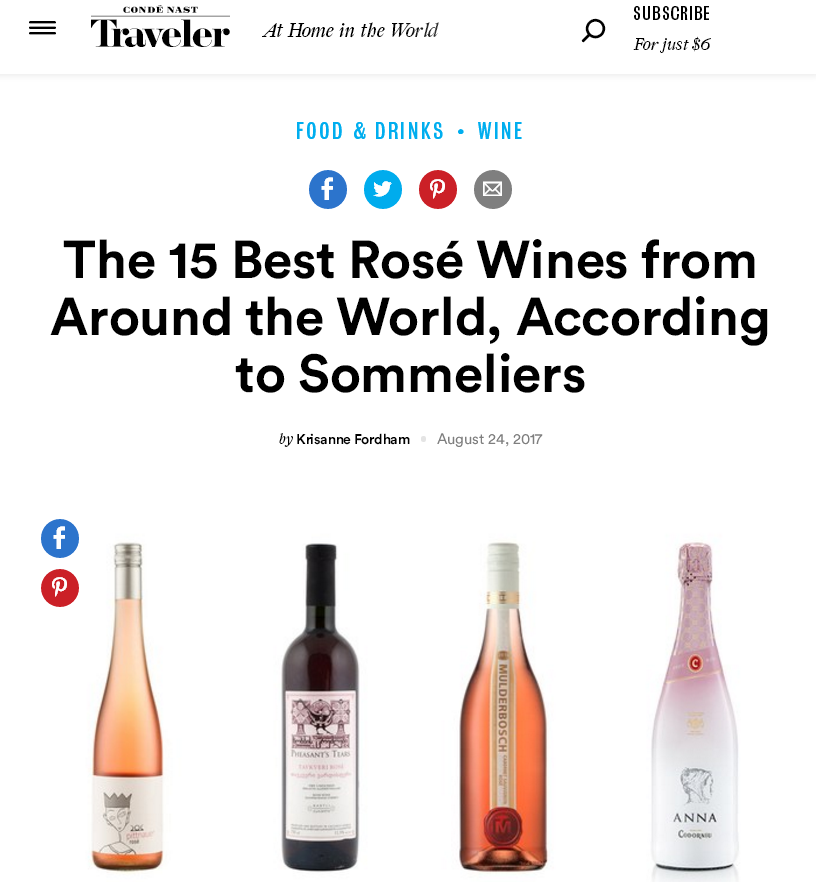 25.08.2017 (Hvino News). A Georgian rosé wine was recently listed in
Condé Nast Traveler'
s list of "The 15 Best Rosé Wines from Around the World".
Condé Nast Traveler
is American luxury travel magazine.
"The 15 Best Rosé Wines from Around the World" is a list compiled by
Condé Nast Traveler'
s author Krisanne Fordham, published on August 24.
The magazine article reads: "In the past year alone, rosé sales have more than doubled, raking in a whopping $258 million in sales, which, according to wine experts, can be attributed to rosé's rising popularity amongst millennials and its growing cachet. And while French rosé is still the most popular, nowadays, some of the best rosé wines are made outside of France. With the help of some wine experts, we've rounded up 15 amazing rosés around the world."
The Georgian wine featured in the list is 2015 Pheasant's Tears Tavkveri Rosé:
"Hailing from a country with 8,000 years of
vitis vinifera
history—and still producing 525 indigenous grape varieties—it's safe to say that this is the oldest rosé you'll ever try," says Payne of this peach-colored Georgian wine. "Tavkveri, when made into rosé, has a balsamic strawberries-and-sage character running through the palate. This is the rosé for red wine lovers when it's too hot outside to be drinking red wine."
The listed price of this wine is $20.
Other selected rosé wines include:
2015 Mahana Pinot Noir Rosé, $25 (New Zealand)
2016 Pittnauer Rosé, $18 (Austria)
2016 Schlossgut Diel "Rose de Diel" Pinot Noir, $25 (Germany)
2016 Ameztoi Rubentis Rosé Getariako Txakolina, $20 (Spain)
2016 Paraduxx Napa Valley Rosé, $32 (USA)
2013 Gusbourne Rosé, $35 (England)
2015 Gaia 14-18h Agiorgitiko Rosé, $16 (Greece)
2016 Mulderbosch Cabernet Sauvignon Rosé, $11 (South Africa)
2016 Goldeneye Anderson Valley Vin Gris of Pinot Noir, $32 (USA)
2016 Tormaresca Calafuria Salento Rosato, $15 (Italy)
Anna de Codorniu Brut Rosé, $15 (Spain)
2015 A Boy with Fruit Rosalia Dry Black Muscat Rosé, $22 (Australia)
In December 2015,
Condé Nast Traveler
included Georgia in its lust of "The Hottest Wine Destinations of 2016" - read more
here
.
Condé Nast Traveler is from the family of leading lifestyle magazines, produced at Condé Nast's U.S. headquarters at One World Trade Center, New York, USA.
© Hvino News
To add this Search Box to your website, click here. Many designs are available.