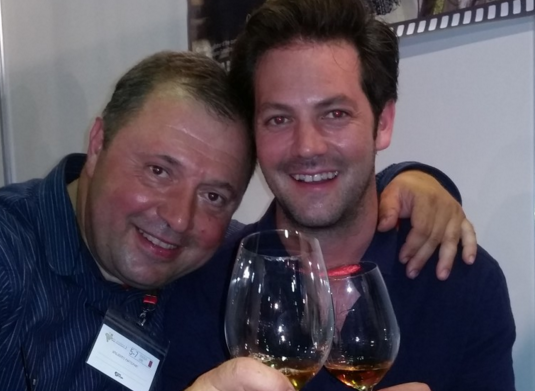 12.12.2015. [Part of interview with Stetson Robbins, sales manager at Blue Danube Wine Company, a U.S. importer of Georgian wines].
Let's talk about the producers. How would you introduce them?
S: I'll start with Kindzmarauli Marani and Shumi who share a similar story. Both are larger, modern wineries, producing "European-style" wines. This means that instead of qvevri they use stainless steel and/or oak barrels. They are located on either side of the Alazani River, in Kakheti — Georgia's largest wine region — within two major appellations. Kindzmarauli Marani is on the left bank in the Kindzmarauli appellation
▼
Map
, known for semi-sweet reds. Shumi is on the right bank within Tsinandali
▼
Map
, an important white wine appellation. Even though both are considered large wineries, there is so much care that goes into the wines. Instead of purchasing fruit, both source from their own estates. Both are also dedicated to Georgia's viticultural future. You can find experimental vineyards at both estates with hundreds of varietals, both indigenous and international. The goal is to see which grapes are most successful in their conditions. It's encouraging to see this interest in supporting Georgia's rich viticultural heritage from large and small producers alike.
The rest of the producers employ more traditional methods, using qvevri for fermentation and aging. If you want a window into the past, drink the wines from Shavnabada Monastery. This Orthodox monastery is located on the outskirts of Tbilisi
▼
Map
, where classical wines are made under the strict supervision of the Monks. These Monks have been instrumental in making high quality
qvevri
wines for many centuries. The monastery is so far off the beaten path that we would not have known about it had it not been for Jean-Michel Morel of Kabaj in Slovenia. He apprenticed at this winery and was the one that introduced us to the wines. Drinking these wines is an almost spiritual or sacred experience.
Next is Amiran, who makes one wine, Otskhanuri Sapere, in Imereti, Western Georgia
▼
Map
. Amiran's vineyard is the largest contiguous plot of Otskhanuri Sapere anywhere in the world. The vines were in his family for a long time and the fruit was previously sold to other wineries. Formerly a lawyer, Amiran had no plans to become a winemaker. Over the years, as the prices other wineries would pay for the grapes steadily decreased, Amiran decided to make his own wine. Essentially he is a hobbyist with good taste who has quickly learned to produce exceptional wines. This is a testament to the fruit that he grows and that it is the right grape for the place. Naturally, Amiran does everything himself, from pruning to bottling, to make this one singular wine.
Then there is Beka Gotsadze of Gotsa Winery. While everything is based on traditional methods i.e the use of
qvevri
, Beka is not afraid to break convention for the sake of quality. The winery is in the hills of the Asureti Valley, in the appellation of Kartli, in Eastern Georgia
▼
Map
. Beka chose this location for its cool climate; he is a bit obsessed with maintaining a cool temperature! He is a former architect which is something you can pick up on by observing his many designs and innovations in the winery. From drilling holes in the bottom of the qvevri to allow gravity flow to wrapping the
qvevri
with silicon tubing for temperature control, Beka is not afraid to try new things in the quest to best express each variety.
What about the grape varieties? What sort of characteristics should we expect?
S: All of the wines are produced from indigenous, Georgian varieties, which tend to display more savory and herbaceous aromas and flavors. Georgia's incredible diversity of varieties suggest that it is one of, if not the first place, that wild grape vines were first domesticated.
Otskhanuri Sapere for instance is one of the most distinct wines you will ever encounter. The example from Amiran is black, viscous, powerful, and brimming with character. I like to tell the story of when I saw Amiran open the
qvevri
and dip the wine thief in to retrieve a sample. When I peered into the
qvevri
, I saw this shiny black cap resembling onyx. When he dipped the thief in, it disappear, as if going into a void. This wine will change your perspective and have you saying, "Maybe I haven't had red wine until now."
Chinuri is a local white variety from Kartli, which is why we have one from Gotsa. The variety is prone to quick oxidation so it needs to be handled carefully. When it is, you experience a range of spicy, tea-like flavors.
Saperavi is the red variety to know. It is the most widely grown grape in Georgia and can range from sweet to dry. It's textured, dense, complex, velvety, chewy, and rich without being alcoholic. Its typical profile is an intense berry flavor accompanied by a strong woodsy/cedar note.
There is still a lot of work to be done to understand the full potential of Rkatsiteli, Georgia's most-planted white grape. It does have some familiar flavors of apple/pear but the character really varies depending on winemaking. Mtsvane is a bit more structured, robust, and rich without being heavy. There is a certain "green" edge to the grape which sets it apart. Kisi is the most juicy, aromatic, and pleasant of the white varieties.
Source
To add this Search Box to your website, click here. Many designs are available.