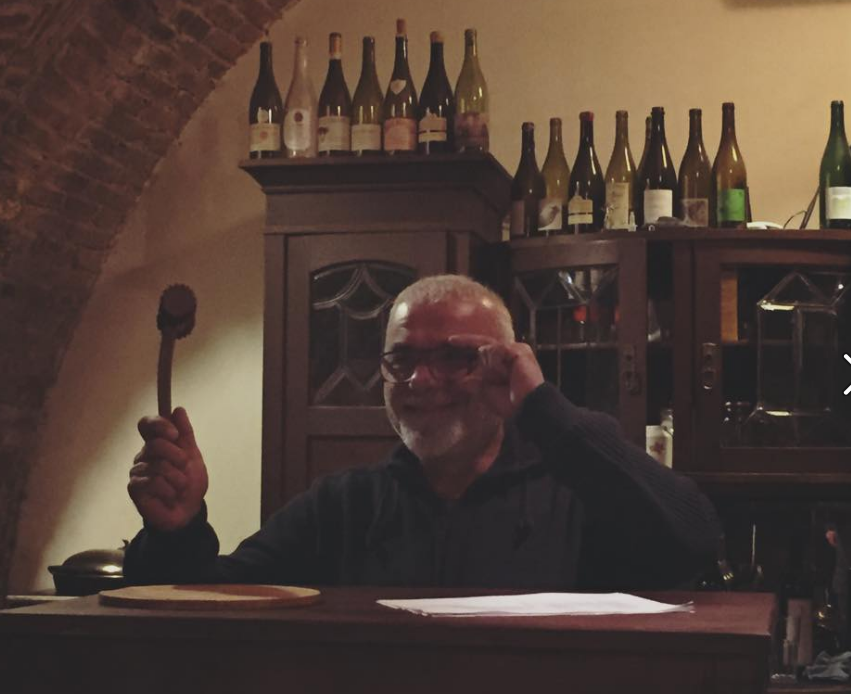 30.12.2015. On December 27, in an informal setting in Vino Underground
▼
Map
, the natural wine manufacturers and enthusiasts conducted auction in support of John Wurdeman and sold rare Georgian natural wines from private collections [read more
here
]. Unique wines from almost all wine regions of Georgia - Kakheti, Kartli, Imereti, Guria, Samegrelo and even Meskheti (wines from there are not available now in Georgia) were represented in the auction. These were, for example, Tsitska-Tsolikouri 2010 and Tsolikouri 2013 from Nicoladze Wine Cellar, Iago's Wine 2003, Naotari's Kisi 2012, Our Wine's Rkatsiteli Tsarapi 2006, Amber-coloured Chkhaveri 2010 by Iberieli, Saperavi 2012 by Kakha Berishvili and others.
56 bottles of wine sold in total (23 retail, and 33 in lots) and the sales amounted to 18 020 GEL. Niki Antadze's Rkatsiteli 2010 was sold at 1200 GEL that was the most expensive wine sold in the auction. Iago's Chinuri and Jakeli Organic Vines and Wine's Saperavi Khashmi were sold at 1010 GEL. Particularly interesting was activity of women in the auction, who did not let Mandili's (Marina Kurtanidze, Tea Melanashvili) Mtsvane to anyone and bought this wine at 850 GEL.
The most expensive among the wines grouped in lots was a lot consisted of Saperavi 2013 by Kakha Berishvili, Iberieli's (Zurab Topuridze) Chkhaveri 2009, Coupage of Jani and Skhiltaubani and Mtsvane by Okro Wines.
In frames of the auction, the Georgian Wine Club transferred 1000 GEL and Kardenakhi Ancestral Cellar transferred 500 USD to John Wurdeman. Individual donors transferred money in a general account. It is important to note the representatives of TBC bank who actively involved in the auction.
This is the first precedent of valuing Georgian wines in such a high price. Retail prices in the auction ranged from 200 to 1200 GEL, and the average price of the wine was 321 GEL.
"I think this auction was important not only because a lot of people came to support John and his family, but also by the fact that wine prices exceeded all expectations. This emphasizes the attitude towards the natural and kvevri wine popularization of which the contribution of John Wurdeman is great. Thanks to everyone."- Says Iago Bitarishvili, wine producer and a member of Georgian Wine Club.
We would like to remind you that two accounts are opened in the bank on behalf of John Wurdeman. With the transfer on these accounts, you can contribute to restore the house and cellar of John Wurdeman and Ketevan Mindorashvili:
Source © Georgian Wine Club, Wine Information Centre
To add this Search Box to your website, click here. Many designs are available.